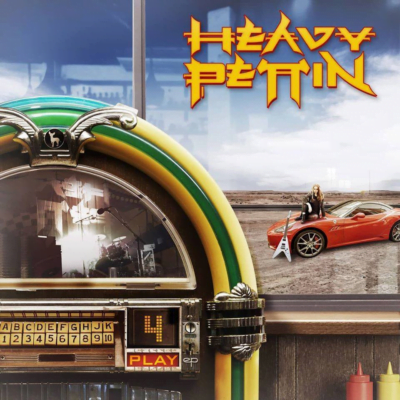 Not get enough foreplay on Valentines day? Well fear not as Glasgow hard rockers Heavy Pettin are here to the rescue courtesy of their just released 4 Play EP. Self produced by guitarist Gordon Bonnar, it bristles with pride throughout like a strutting peacock. Forming in 1981, they caused a bit of a stir back in the day with a Friday Rock Show session on Radio 1 that lead to debut album Lettin Loose released by Polydor Records, produced by Brian May. Two years later, the  Rock Ain't Dead album lived up to its title but unfortunately they split a few years after.
So fast forward to a 2017 reunion that heralded the call to arms run of live gigs that showed they still have fire running through their veins. 2019 was a busy year as it ended with a headlining UK tour. They have just returned from the Monster Of Rock Cruise in Fort Lauderdale, Florida and February 28th sees them playing at Brofest in Newcastle.
The EP hits hard from the off as 'Get Back To You' sees the riffs from Gordon and Dave Aitken slash and burn, backed by snappy snare work from Michael Ivory. After all these years, the snarl from lead vocalist Hamie is still there since I first heard the band on the Friday Rock Show in the early 80's and he is joined by some strong band backing vocals. The intro to 'Tell Me Why' sounds like the Cult and Big Country fighting in a pub car park until it heads off into crushing power chord heavy AOR. 'Who We Are' is melodic rock at its finest, beefed up by some hefty riffing. This fine EP ends all too soon with 'Hard To Hold', my personal favourite here. It begins with sultry balladry as Hamie wears his heart on his sleeve for an emotional tour de force. It muscles up midway for a bombastic riffed and drummed midsection but the icing on the cake is the fretboard melting guitar solo!
 4 Play EP track listing :-
Get Back To You.
Tell Me Why.
Who We Are.
Hard To Hold.
Heavy Pettin band line up :-
Stephen (Hamie) Hayman – Lead vocals.
Gordon Bonnar – Guitar/vocals.
Jez Parry – Bass guitar/vocals.
Dave (Davo) Aitken – Guitar/vocals.
Michael Parry – Drums.
A majestic return to the studio resulting in the 4 Play EP from Scottish legends Heavy Pettin!