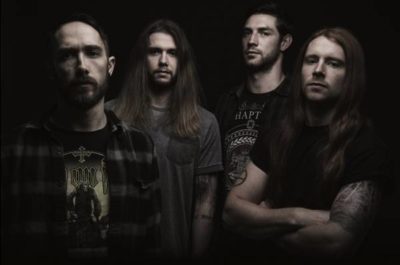 Sylosis return with their fifth full length album and my word what a belter as they certainly make up for lost time after their four year snooze!!
The energy here in every track is raw, blinding, and has a point to prove. You can feel it. Taste it.
From the pulsating 'Cycle Of Suffering ', to the acoustically beautiful 'Arms Like A Noose ', with it's perfectly balanced eeriness and tranquillity beginning. Each track holds a story of togetherness and precision. 'Calcified ' (video link above) gives us energy through it's speed changes, stitched together nicely by an atmospheric chorus.
'Apex Of Disdain ' offers raw power, while album closer 'Abandon ' demonstrates the bands ability to adapt vocally and musically into a different genre, yet still maintain the album's formula and integrity. This is certainly the best track on offer here in my opinion. Just beautiful. An anthem.
Sylosis are definitely back here and firing on all guns with it what a brilliantly atmospheric effort. Lovely.
Track Listing:
1 – Empty Prophets   2 – I Sever   3 – Cycle Of Suffering   4 – Shield   5 – Calcified   6 – Invidia   7 – Idle Hands
8 – Apex Of Disdain   9 – Arms Like A Noose   10 – Devils In Their Eyes   11 – Disintegrate   12 – Abandon
Line-up:
Josh Middleton – Guitar/Vocals   /   Alex Bailey – Guitar   /   Conor Marshall – Bass   /   Ali Richardson – Drums
Links:
Release date: 07/02/20. Running length: 50mins 53secs.