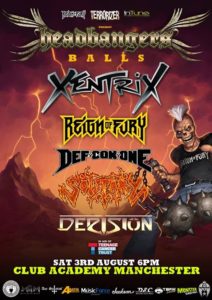 Gig reviews for Planetmosh are posted in a section called Event Reviews and the Headbangers Balls gig is worthy of being called an event and not just a gig due to the reasons behind it. The tour consists of 12 UK dates on weekends between July 12th to August 17th in Cardiff, Bristol, Plymouth, Nottingham, London, Oxford, Wakefield, Manchester, Glasgow, Newcastle, Liverpool and Birmingham. The tour is called the Headbangers Balls to raise awareness and funds for the teenage cancer trust. The tour was devised by Andy Pilkington, manager of Reign Of Fury who have played every date of the tour as 2013 marks the 5th anniversary of their lead vocalist Bison Steed making a recovery from testicular cancer.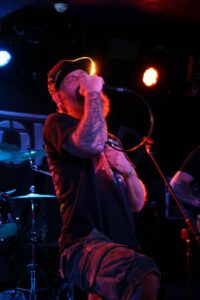 Aside from Reign Of Fury the rest of the tour has a different bill for every gig and the Manchester Club Academy show with 5 bands for £10 was a bargain considering the strength of the line up. The show started at 6.30pm due to an 11pm curfew and the daunting task of opening up was given to Derision,a last minute addition to the bill. The Bolton based band wasted no time with their half hour slot as vocalist Anthony Thomas Smith fixed the crowd with an ever increasing steely glare as Derision gave the 4 other bands a hard act to follow by hammering out tracks from their highly acclaimed debut album Ancients and new tracks Predation and Final Solution,their final song which seemed to use the last bit of air in the venue! Set highlight was Ancients,like early Exodus with numerous time changes.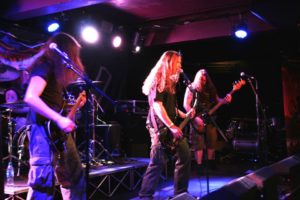 Preston thrashers Solitary were next up. Formed in 1994 they delivered 30 minutes of precision thrash metal with an inspired cover version of Into The Pit by Testament alongside numbers from their Requiem album. They got the 1st pit action of the night and my set highlight was the thrashtastic, "Keep Your Enemies Closer".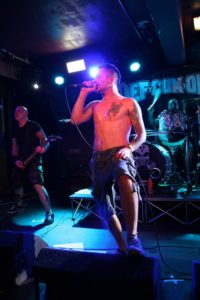 Def Con One from Newcastle Upon Tyne followed and were a different animal to the previous 2 bands. More groove orientated with a punkier edge and this was proven by crushing set opener March Of The Dead which literally steamrollered off the stage,driven by the battering ram drums of ex-Venom member Antton Lant. 10 Bullets followed with band backing vocals to make the number even more menacing with vocalist Davey Meikle exorcising more demons than hell could hold! The remainder of their half hour set was made up of another 4 numbers from their debut album Warface;No More Hate,Steeped In Pain,Give Me Strength and the anthemic title track Warface with a vocal that must have been heard in the 2 venues above the Club Academy. Job done!  Highlight of the set? The brutal 10 Bullets!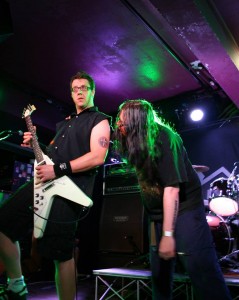 So penultimate band Reign Of Fury, formed in the Midlands in 2005  were next and i must confess to have not  heard of them until this tour but was completely won over after the 1st song. The only way i could describe them onstage are like a sober Dragonforce only more thrashier! Bison Steed has a great vocal range,stage presence and is up there with Joey Belladonna in his range. The whole band were on fire from the off but guitarist Jon Priestley caught my attention. He looks a bit like Adam Dutkiewicz from Killswitch Engage but with a constant look of bewilderment which was hilarious. Another mention must go to his guitar partner Ed Westlake who made some frantic runs up and down his fretboard. Reign Of Fury went down a storm here and my song of the set would be Psycho Intention which seemed to be trying to break the Guinness Book Of World Record for how many riffs you can cram into one song. Headbanging heaven!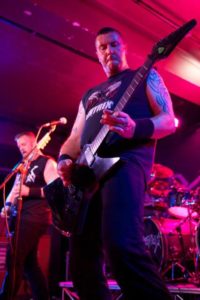 And so to the headlining act, Xentrix! Thrash metal  has made a resurgence in the past few years and its return is very welcome. The older fans (like myself) are lapping it up and the younger generation can now see what all the fuss was about when we were their age. Formed way back in 1985,Preston based Xentrix caused quite a stir at the time with debut album Shattered Existence in 1989 from which 7 songs were played in their 12 song set and follow up album For Whose Advantage in 1990 from which 3 songs were played. After a split in 1996 and a brief reunion in 2006,Xentrix announced in February 2013 they had reformed with the original line up of Chris Astley,Kristian Havard,Paul MacKenzie and Dennis Gasser. 3 dates supporting Kreator in April (following a low key warm up in Wigan) reaffirmed their return in style so expectation was high for the Headbangers Balls show. By the time they had got into their stride on opening number Black Embrace,the already full front area of the stage erupted into an all ages pit which continued throughout their hour long set until the end of encore No Compromise. Frontman Chris Astley still has his aggressive bark and the clock went way back since i last saw them play in 1987. Their set was extremely tight and very fast to say the least and easily my favourite song of the set would be the colossal For Whose Advantage. Back in the day i remember thinking it was as epic as Am I Evil by Diamond Head and after hearing it live again in Manchester,it still holds true.
A fantastic way to end an evening of top notch metal with all 5 bands playing their hearts out for such a worthy cause. There are 2 gigs left on this tour at the Lomax in  Liverpool and at the Rainbow Venues in Birmingham on the 16th and 17th of August so if you are near then go and support them!
I award the gig an easy 10/10!
Thanks to Steve Tottle and Xentrix for the use of their photos! \m/