After two years of waiting, Swedish Rockers H.E.A.T has finally made their 'Sign In The northern Sky Tour happen! Original singer Kenny Leckremo rejoined the band in late 2020 after the departure of Eric Grönwall, who is now fronting Skid Row.
Joined by Collateral and special guests Mason Hill for the next five dates, tonight is the first night of the tour and it's quite the band package.
Collateral
Collateral is enjoying a good run on the tour circuit. The last time I happened to see them was here at The Warehouse, opening for Reckless Love last month, their stage area was limited due to the amount of gear on and in front of the stage and it's no better tonight. Even the photo pit is limited to a corner, not the best when your trying to promote a band visually.
Life ain't no merry-go-round, a casing point proved by Collateral, who wasn't phased by the limited amount of space or being swathed by the 'smoke machine' during their performance. Delivering an enthusiastic set, the South Kent, hard rockers give off vibrant energy on Lullaby. Playing their first single Midnight Queen, a country-style rock number with a melding of solo guitar and 'Bon Jovi' Esq stylings.
Celebrating their soon-to-be-re-released debut album 'Re-Wired' out on 21 October 2022. Sin In The City is the latest single off the album. Not ones for a quick thank you and goodnight, the band laps up every minute of stage time.  Singer, Angelo Tristan, holds aloft his acoustic guitar for their final number Merry Go Round, looking like a man who has finally reached his dreams. They close with a mini instrumental- boom!
Collateral – Angelo Tristan (lead vocals, guitar), Todd Winger (guitar), Jack Bentley-Smith (bass) and Ben Atkinson (drums) Louis Malagodi (guitar)
https://www.facebook.com/collateralrocks | https://www.collateralofficial.com/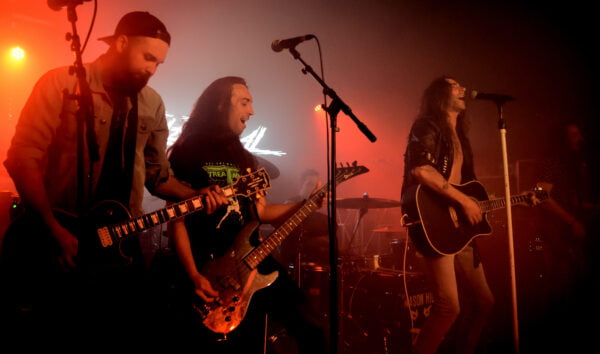 Special guests Mason Hill
Wake up, wake up if you've not heard of Glasgow rockers Mason Hill, where have you been? Breaking new heights of acclaim, with their latest debut album Against The Wall. The band recently promoted it with a headline tour, which followed the release of the 'Live in Glasow' album in July 2022.
With one banging album to their name, each track explodes in your face, Mason Hill don't fail at delivering the songs live. DNA is high-octane rock and roll, and it looks like they brought along a fan base as the first few rows of the audience are fist-pumping their arms in the air and singing along!
There's plenty of energy and 'whoas' and sing-a-longs, the bombastic Find My Way chorus provides the perfect opportunity for a whoa-a-long. Scott's vocals are a mix of smooth and raw, and boy can he hit those high notes! Melded with some excellent guitar riffage and banging skins, this song represents Mason Hill. Slowing the energy down on Where I belong, the nicely paced We Pray builds up the momentum again with its poppy anthemic beats.
They finish with the epic Against The Wall.
Mason Hill: Scott Taylor – Vocals – James Bird – Lead guitar – Marc Montgomery – Guitar – Matthew Ward – Bass – Craig McFetridge – Drums
Links: https://www.masonhillofficial.com/ | https://www.facebook.com/masonhillofficial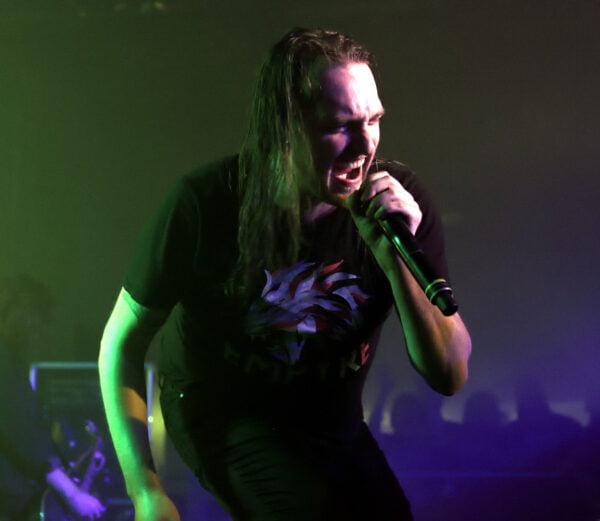 H.E.A.T
Welcome to the main attraction (and I'm not just referencing Kenny Leckremo's mane) and the reason we've happily waited two years for the 'Sign In The Northern Sky Tour'. It's a joy to have Swedish Rockers H.E.A.T back in the UK.
Playing an impressive 16 songs off their career-spanning seven studio albums, we finally get to hear the live performances from their latest album release 'Force Majeure'.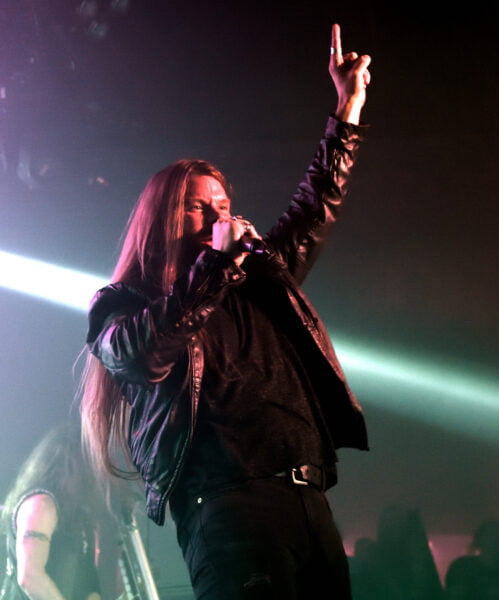 The backing track playing as H.E.A.T take to the stage is 'The Heat Is On', and we can feel it, not only because the venue is now packed out but our energy is high and full of anticipation and we're ready to get caught up in the action!
The 80's vibe is full on as Back To The Rythem, fires up and unleashes its pop-synth melody, we are back to the more melodic vocals of Kenny, who makes his comeback performance as H.E.A.T's vocalist. Kenny left the band in 2011 but returned in late 2020 making the new album Force Majeure, with his band brothers, it's like he never left.
Getting crazy and letting loose on Rock Your Body, the synth wave carries on. Leckremo doesn't have to work the responsive crowd too much. With a tendency to sing his left side, it's like watching a hair commercial from the photo pit. More hair whips from Kenny, and he's straight down the front row, foot on the barrier, singing into their surprised faces.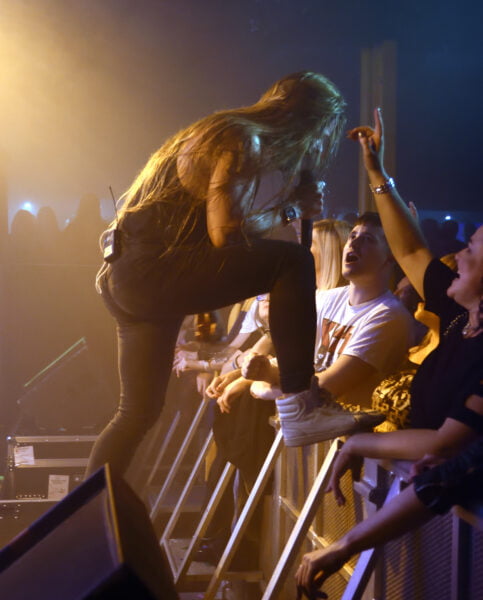 Let's get the party started in H.E.A.T City
Tonight we take a journey to H.E.A.T City on the power-riffing Hollywood. Kenny unleashes his beast on the charged Tainted Blood. A high-note, melodic ripper of a tune, both are new tracks from 'Force Majeure'.
Kenny tells us he is overjoyed at the response to be back playing in the UK. Especially as the band come from a tiny place called Upplands Vasby, Stockholm. This gets a big cheer and a chant of 'Yorkshire' from the crowd. Enjoying the delights of Leeds, Kenny shares that his band wandered around Leeds today taking in the ' Festival of Light', drummer Mr Crash treated himself to a souvenir glow stick.
Cue an epic one-handed drum solo!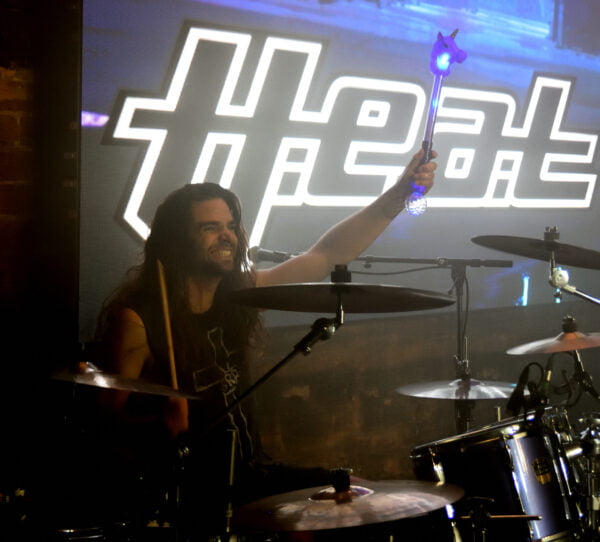 Are you ready to head back in time?
Going way back to 2009's Freedom Rock album Beg Beg Beg, this rousing pop-rocker keeps the crowd rocking along. Keeping the nostalgia trip going. Getting an airing, the next two back-to-back numbers Cry and 1000 Miles from their self-titled debut album H.E.A.T released in 2008.
Nationwide was the first hot single off Force Majeure and it's the penultimate number of the night. H.E.A.T ends the show in high spirits. Kenny thanks all the bands and his audience for joining them. Ending with the uplifting A Shot at Redemption, singing full blast, on his knees with the crowd singing along on the chorus 'Seems like forever been singin' on this song, Now and forever been singin' on this song' Yeah!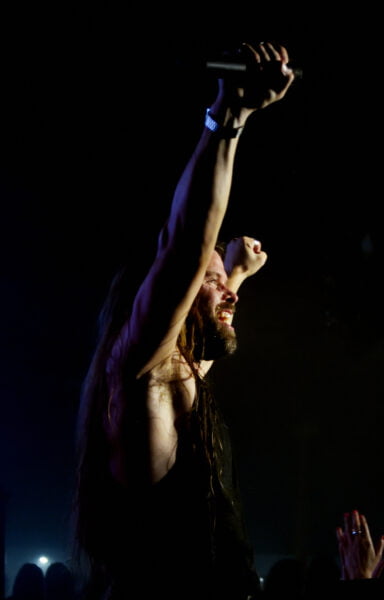 Setlist H.E.A.T
Back To The Rythem
Dangerous Ground
Rock Your Body
Come Clean
Redefined
Hollywood
Straight For Your Heart
Tainted Blood
One By One
Beg Beg Beg
Cry
1000 Miles
Breaking The Silence
Living On The Run
Nationwide
A Shot At Redemption
H.E.A.T
Kenny Leckremo – Lead Vocals
Dave Dalone – Guitars
Jona Tee – Keyboards, Organ
Jimmy Jay – Bass
Don Crash – Drums
Links: https://www.heatsweden.com/
Words and Photos by Alex English
For more photos go here – https://flic.kr/s/aHBqjAbk4T