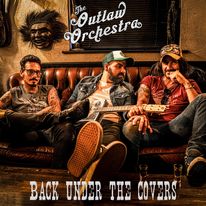 The Outlaw Orchestra return from under the covers with their, erm erm erm, brand new five track utterly bonkers EP Back From Under The Covers. Five party starting and finishing cover songs start with a surprisingly full on take of 'Come Together' by the Beatles. Wow! How about those guitars that crunch and grind throughout, bolstered by attention grabbing earworms of lumbering double bass, snappy snare work, barmy banjo and a totally unhinged lead vocal.
'Itchycoo Park', first single taken from the EP by The Small Faces is a jovial jaunt in the park that captures the pizzazz of the original that also adds a dash of joie de vivre to for a gentle strum to melt the coldest of hearts!
A frantic 'Rocky Mountain Way' by Joe Walsh is rockingly rocky as it stomps along on THAT riff to make a backbone for a gritty lead vocal and more seismic double bass damage that goes even heavier when the guitar solos fly off the fretboards.
'Up On Cripple Creek' by The Band is a quintessentially quirky hip shaker. A chewing tobacco infused vocal is totally mad as is the instrumentation that belongs in a straitjacket and fittingly ends on a dogs howl.
This fantastic EP ends far too soon on a thrashtastic take on 'Iron Fist' by Motorhead of course! There is no Murder One amp from Lemmy here but they still give it a good seeing to with tongues firmly in cheeks and I'd like to think that Lemmy, Phil And Eddie (R.I.P) are raising their cans of Carlsberg Special Brew to keep their memory alive.
Formed in 2016 from the deep south (Southampton) UK coast with a love of country rock n roll, The Outlaw Orchestra (formerly Dirty Diesel Outlaw Orchestra) describe themselves as a unique blend of hard Southern Rock through to Cajun, Dixie, Country, Flamenco all cooked together with their unique signature style of 'heavy grass', described as "A melting pot of styles from American Southern Rock, British 70's rock, Louisiana roots, to bluegrass. Putting the fun back into rock n roll".
Links to the band are here :- http://theoutlaworchestra.com I https://www.facebook.com/theoutlaworchestra I https://www.theoutlaworchestra.com/covers I https://www.youtube.com/results?search_query=the+outlaw+orchestra https://open.spotify.com/artist/1sK37GLciGGUDoENgqN3X3
The Outlaw Orchestra band line up :-
Dave Roux – Guitar/Lead Vocals.
Ryan Smith – Drums/Percussion/Vocals.
Pete Briley – Banjo/Lap Steel/Pedal Steel/Guitar/Composer.
Nothing should be outlawed here, just a free pardon for The Outlaw Orchestra to release their brand new EP Back Under The Covers!