Every year at the end of June, flocks of nomadic metal fans descend on the tranquil little town of Dessel in the north east of Belgium for the Graspop Metal Meeting.  Now in its 18th year, GMM offers the best of all genres of music over 3 sonically charged days.
Friday 28th June
The daunting task of opening the festival was handed to Sweden's Crucified Barbara (6).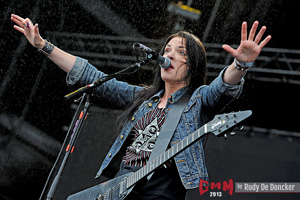 Their sleazy metal laughed in the face of the spitting rain. Songs such as "Motorfucker" and "Sex Action" went down a treat with the early morning revellers. Next up and definitely with a little less sex appeal were Bay Area thrashers, Heathen (7). Delivering a quick fire set grounded very much in their old school thrash roots. It was great to catch Lee Altus shredding like a maniac alongside Kragen Lum during the awesome "Death by Hanging". Over in Marquee 1, bedecked in red and black war paint, Germany's Varg (6) were warmly accepted by a strong following of fans before their fellow countrymen Grave Digger (7) were unleashed on the Mainstage. Opening with "Hammer of the Scots", these battle hardened souls connected well with the ever increasing multitude before them. "Rebellion, (The Clans are Marching)" was a highlight with its glorious chorus. Back in Marquee 1 it was easy to tell who was up next by the plethora of Asking Alexandria (8) T-shirts. These guys have what it takes to be huge and with songs like "Breathless", "To the Stage" and "Run Free" littered throughout their set, it won't be long til these guys are mainstage stalwarts.  The first trip to Marquee 2 saw Unleashed (7) smacking the public in the face with their classic Viking metal repertoire.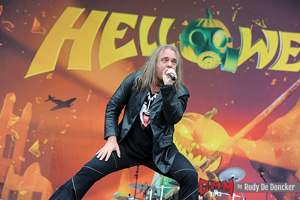 From the back of the arena, two huge Pumpkins could be seen back down at the mainstage leaving no one in doubt that Helloween (8) were imminent. Andi Deris engaged in a lot of good old fashioned crowd sing-a-long antics and with "Eagle Fly Free, Dr. Stein, I Want Out and Future World" there was a lot of banging heads, Cheshire cat grins and straining voices joining in. Grosskopf stalked the stage as Weikath shredded through the rather ominous "Waiting for the Thunder". Folk metal was in the air as Korpiklanni (8), one of the must see bands at any festival, ripped through the tent in front of a full on party. Songs like "Juodaan Viinaa", "Vodka" and "Beer Beer" were made for Graspop and lead to some of the dodgiest dancing seen all weekend.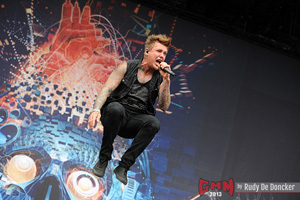 On a day that seemed to have a lot of the Nu Metal scene playing, It was the masters of reinvention, Papa Roach (8) who really took the crowd in their hands and brought on the first slew of circle pits and crowd surfing in the main arena. Jacoby Shaddix is an enigmatic frontman and "Too Be Loved" was unforgettable alongside a stellar "Last Resort". Tommy Victor is still and immense figure onstage and when Prong  (7) played "Snap Your Fingers, Snap Your Neck", Marquee 2 was in danger of being flattened. Due to a traffic jam in Germany, Soulfly were unable to make their slot on the mainstage and Coal Chamber (5) were asked to step into the breach. It was this move from an intimate stage to the more exposed cauldron that caused their set to suffer. Dez Fafara is an amazing focal point and "Loco" is still a powerful anthem, but I felt a little ambivalent to their relevance any longer, knowing the nature of the beast that is DevilDriver. Rotting Christ (8) on the other hand were on fire and speaking of fire, Mayhem (7) brought the growls and pyro to Marquee 2.  Things were really starting to heat up on this rather slow burner of a day. My first trip to the Metal Dome was to catch the compelling melancholy of Katatonia (7) and their exquisite craftings.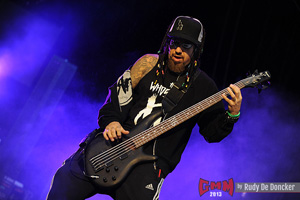 Penultimate mainstagers Korn (9) were on of the true highlights of the day. With Brian 'Head' Welch back in their midst, their chemistry is more focused and intense. With Jonathan Davis laughing in the face of the weather, they were unstoppable and by the time they closed with the trio of "Get Up", "Got The Life" and "Freak On a Leash", the audience's attention was unwavered. It cannot be long until Korn are Headlining the big Euro Festivals. Where Coal Chamber suffered with the time slot change Max Cavalera and Soulfly (9) relished the challenge of the smaller stage. Assaulting the gathering with a mixture of old and new, the ferociousness of personal favourite "Arise" was matched by "Prophecy". Over at M2, Kreator (8) brought their full stage show. The German thrashers were angrier than a bag of bees. "Phobia" was tantalizing tectonic.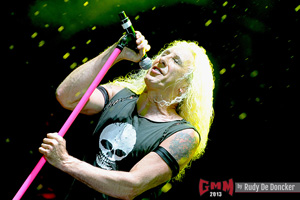 As Twisted Sister (10) prepared to take the stage and close the first day. The heavens decided to spill half of the North Sea onto the assembly. A year ago, Dee Snider and Co. earned their stripes and were deservedly asked to headline for 2013. Without regular bassist Mark Mendoza, who was having emergency knee surgery, Twisted Sister treated the gathered SMF's to a setlist crammed with hit after hit. Opening with "You Can't Stop Rock and Roll" and taking us through "Shoot Em Down" and "Stay Hungry".  Tonight, they handled the torrential rain with aplomb and Dee used it as a part of the show. Throughout "Burn in Hell" he crawled, writhed and stalked the water strewn stage, shrouded in red light. He beckoned to the sky, "Mother Nature, you are not a fucking Bitch. You are a Cunting Whore". Dutchman Juss, a friend of Jay Jay French was invited onstage for a surprise proposal to his girlfriend (and now fiancée) Arlette. Snider's comment after the acceptance was vintage Snider and the PlanetMosh Censors would cut this article short if I typed it, so check out youtube to hear his wisdom. During "We're Not Gonna Take It", Dee implored the crowd to raise their middle fingers to Mother Nature and scream the song for a reprise. For "I Wanna Rock", Asking Alexandria were brought onstage to participate, much to the delight of a number of soaked young ladies nearby. Closing Day 1 with "Come out and Play", and "SMF", Dee and the boys brought their very own thunder and gave us another special GMM moment.
On a night that was in danger of being a washout, Twisted Sister proved to the world that in spite of Mother Nature's efforts, "The Fire Still Burns" and burn fucking bright it does.
Photos by Rudy De Doncker