The day has finally come for metal titans Kreator to unleash the beast that is their monster new album, 'Hate Über Alles' – a strong album-of-the-year contender as well as a clear statement against hate and the division of society.
To mark its release day, Kreator present 'Become Immortal'! A lyrical and visual look back through the ages of their legendary career, whilst passing the torch to young German thrashers Destroy Them from Mille's hometown, Essen, who feature as the Kreator performing in the video.
Watcht the video for 'Become Immortal': 
Buy/listen to new album 'Hate Über Alles': https://kreator.bfan.link/hate-uber-alles

Mille Petrozza comments:
"We're very proud of this record and we hope our Hordes love it as much we do! A big thank you to everyone involved and to our fans around the world for their support and for giving us a warm welcome back! 
 
The video was our third in a row with Tom Schlagkamp and his team, it's been a pleasure working with them. The video is based on the lyrics, which is a full circle look back through the years and celebrating our early beginnings, through to the release of our latest record, 'HATE ÜBER ALLES'."


Praise For 'Hate Über Alles':

"One intro, 10 genuinely fantastic songs, absolutely no fucking about. They may have nothing to prove after nearly four decades of active service but Hate Über Alles proves it anyway. When it comes to hitting the heavy metal nail on the head with maximum conviction, Kreator are firmly top of the bill." – Metal Hammer (UK)

"Hate Über Alles is an album almost designed to piss someone off. And it might, if it wasn't so goddamned awesome." – Metal Injection (US)

"The legends from the Ruhr area have delivered another masterpiece and the only ones able to dethrone them would be themselves." – Metal Hammer (DE) / Album Of The Month

"KREATOR are basically a license to produce anthems. They have nothing left to prove after laying waste to the opposition for decades and still manage to come out all guns blazing with one of their best releases to date." – Distorted Sound (UK)

"ultra powerful [production] while at the same time with a refreshing live feel" – Rock Hard (DE) / Album Of The Month

"KREATOR sound as confident and strong as ever" – Blabbermouth (US)

"KREATOR at its best." – Deaf Forever (DE)

"Rarely any other band manages to sound as fresh, hungry and inspired after almost 40 years as Petrozza and his pals." – Metal.de (DE)

"a terrific (thrash) metal album through and through and at the same time a hot contender for 'genre dominator of the year'. KREATOR über alles!" – Stormbringer.at (AT)

For 37 years, Kreator has spear-headed a thrash metal crusade, inspiring generations of metal heads and musicians alike. The collision of traditional and contemporary values is a sentiment that Mille Petrozza has breathed into the soul of this monumental new album; recruiting visionary producer Arthur Rizk (Power Trip, Cavalera Conspiracy, Ghostmane and Turnstile) from Philadelphia to work with the band at the legendary Hansa Studio in Berlin. "Hate Über Alles" features gorgeously grim cover artwork painted by renowned artist Eliran Kantor (Testament, Thy Art Is Murder, Helloween), serving a bold statement against hate and division in today's society.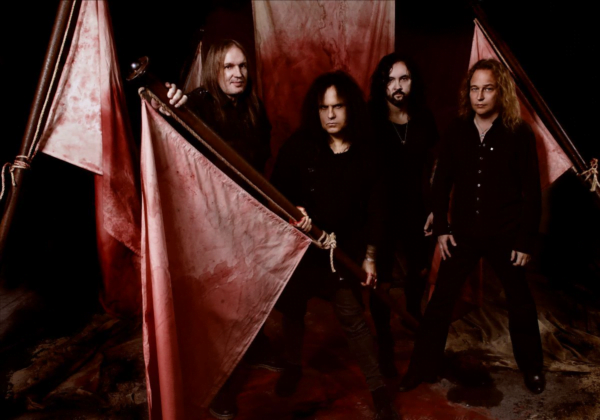 KREATOR Live 2022
18th Jun – Finland – METAL CAPITAL FEST
24th Jun – France – HELLFEST
26th Jun – Italy – ROCK THE CASTLE
30th Jun – Portugal – VOA HEAVY ROCK FESTIVAL
03rd Jul – Finland – TUSKA
04th Aug – Spain – LEYENDAS DEL ROCK
19th Aug – France – MOTOCULTOR FESTIVAL
20th Aug – Netherlands – DYNAMO METAL FEST
23rd Sep – Mexico – MEXICO METAL FEST
State Of Unrest Tour 2022
KREATOR | LAMB OF GOD
with guests: Thy Art is Murder & Gatecreeper
18th Nov – Denmark – COPENHAGEN, Forum Black Box
19th Nov – Sweden – STOCKHOLM, Fryshuset Arenan
21st Nov – Finland – OULU, Teatria
22nd Nov – Finland – HELSINKI, Ice Hall Black Box
24th Nov – Poland – WARSAW, Stodola
26th Nov – Germany – MUNICH, Zenith
27th Nov – Germany – BERLIN, Columbiahalle
29th Nov – Netherlands – TILBURG, 013
30th Nov – Belgium – BRUSSELS, AB
02nd Dec – Germany – LUDWIGSBURG, MHP Arena
03rd Dec – Germany – ESSEN, Grugahalle
04th Dec – Germany – SAARBRÜCKEN, Saarlandhalle
06th Dec – Spain – MADRID, Riviera
07th Dec – Spain – BARCELONA, Razzmatazz
09th Dec – Germany – WIESBADEN, Schlachthof
10th Dec – Germany – HAMBURG, Edel Optics Arena
11th Dec – Germany – LEIPZIG, Haus Auensee
13th Dec – UK – LONDON, O2 Academy Brixton
14th Dec – UK – GLASGOW, O2 Academy
15th Dec – UK – BIRMINGHAM, O2 Academy
16th Dec – UK – BRISTOL, O2 Academy
18th Dec – UK – MANCHESTER, Academy
20th Dec – France – PARIS, L'Olympia
21st Dec – Switzerland – ZURICH, Samsung Hall