Guitarist and singer-songwriter, Troy Redfern, dubbed as Britain's "King of Slide Guitar," has been confirmed as DARE's special guest on their 12-date October 2022 UK Tour. Tickets are available from www.thegigcartel.com and www.seetickets.com.
The news follows Troy's support slot on When Rivers Meet's April and May UK tour and precedes his highly anticipated new studio album slated for release in Autumn 2022.
Hailed by Rock and Blues Muse as part of their "Best of British: 15 UK Blues Artists to Check Out Today," they had this to say about Troy – "His performances are passionate and intense, and while his style certainly references its delta blues roots, his delivery pulls it into the 21st century through a swamp of distortion and contemporary rock n' roll aesthetics."
Over the past 12 months, Troy has toured the UK several times supporting the likes of Robert Jon & The Wreck, The Quireboys, and When Rivers Meet.
In August 2021 Troy released of his critically acclaimed album The Fire Cosmic featuring the singles Waiting For Your Love, Ghosts, Sanctify and Stone. The album is available from www.troyredfern.com/shop.
The album was recorded at the legendary Rockfield Studios in North Wales, the same studio where Queen recorded all their early albums Sheer Heart Attack (1974) and A Night At The Opera (1975) – the latter featuring the legendary single Bohemian Rhapsody.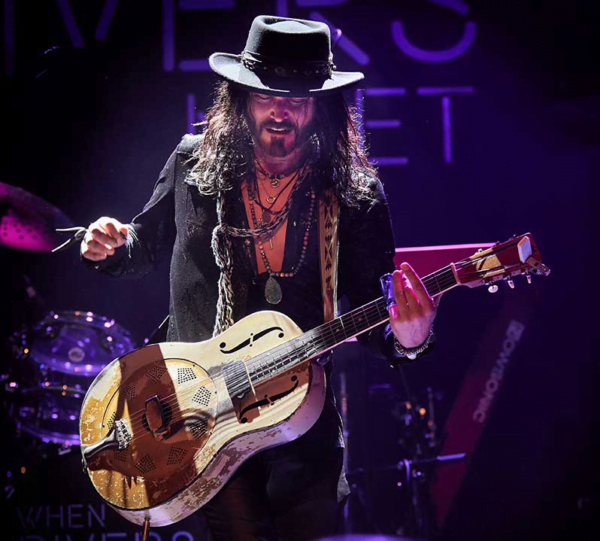 Hendrix-esque fretwork and Slash-styled cool." – Rush on Rock

"Troy's husky blues vocals, paired with his swirly tremolo style, and whammy effects without the bar; shows you why he's dubbed The King of Slide Guitar." – Planet Mosh

"An undercurrent of dirty blues and driving riffs. Troy is straight into the slide from the
"Stepping onto stage in his flared leather pants with his long hair and hat, he looks every bit the rock star that he is. Redfern showcases what a talented musician he is as he performs with incredible passion and love for his craft." –  Rock 'N' Load
"The way Troy Redfern plays the guitar with such a primal aspect, but such a
skilful touch puts him in at least conversation with the greats." – Maximum Volume Music

"Troy's guitar playing is on another level, and slide guitar purists in the audience are drooling as he peels off one incredible lick after another." – Devils Gate Music

"Redfern whipped the masses into a frenzy with his off, the notes filling the room like a shower of wedding confetti." – Metal Planet Music
# # #
DARE
OCTOBER 2022 UK TOUR
WITH SPECIAL GUEST
TROY REDFERN
TICKETS AVAILABLE FROM
THEGIGCARTEL.COM | SEETICKETS.COM
Leeds, Brudenell Social Club
Thursday 6 October 2022

Newcastle, The Cluny
Friday 7 October 2022

Glasgow, The Garage
Saturday 8 October 2022

Bury St Edmunds, The Apex
Thursday 13 October 2022

Rescue Rooms, Nottingham
Friday 14 October 2022

Bilston, The Robin
Saturday 15 October 2022

Shoreham, The Ropetackle
Friday 21 October 2022

Southampton, 1865
Saturday 22 October 2022

Bristol, Fleece
Sunday 23 October 2022

London, O2 Academy Islington
Thursday 27 October 2022

Manchester, Academy
Friday 28 October 2022

Newbury, Arlington Arts Centre
Saturday 29 October 2022
# # #