Following the release of his number one album FTHC, (that's Frank Turner Hard Core), in case you were wondering. Frank Turner and The Sleeping Souls return to Leeds for their 40th show or show 2694 for the number of shows they have played to this date.
It's great that Frank Turner and his band have decided to play more than one show in Yorkshire, with Leeds being the second after Sheffield last week.
The O2 Academy is tonight's host and the venue is packed out. I'm not sure if it's a sell-out but the FTHC army is out in full force, showing their support.
Not one to keep it brief the setlist boasts a mega 26 songs.
Heigh-ho, heigh-ho, we're off to the punk rock show. Frank Turner and The Sleeping Souls launched straight into Four Simple Words, a song I'm used to hearing a bit later in the set and when you get such an excellent banger to start and you're in the photo pit, I can tell you it was hard to keep the poker face and not dance.
The Gathering is very apt, looking around at the happy faces the fans are a good mix of ages and it's great to see Turner's music resonates with so many people.
Going anthemic, the sing-a-long of the punky Punches off his new album FTHC goes down well as does the Fatherless, these songs are more hardcore than the folklore Frank the majority of his fans have got to know. I like that he's ventured back to his post-hard-core roots!
Not to overload his audience Turner strikes a good balance as we get melodic on the keyboard-infused I Am Disappeared.
Frank is always a man of many words and always has great stories to tell his audience. Tonight this one is about his father, who is now a transgender woman called Miranda. The pop-rocking tune Miranda was revealed on his latest album and the harmonic chorus of 'ba pa ba bah, ba pa ba bah' goes down well.
Frank always has a passion when singing but tonight he seems a bit vexed. After all, a lot has happened for us all over the last few years.
Opening up about the loss of his friend and Frightened Rabbit frontman Scott Hutchison, Turner penned the song Wave Across The Bay to his memory, as Franks ensures us it's a happy song about his friend.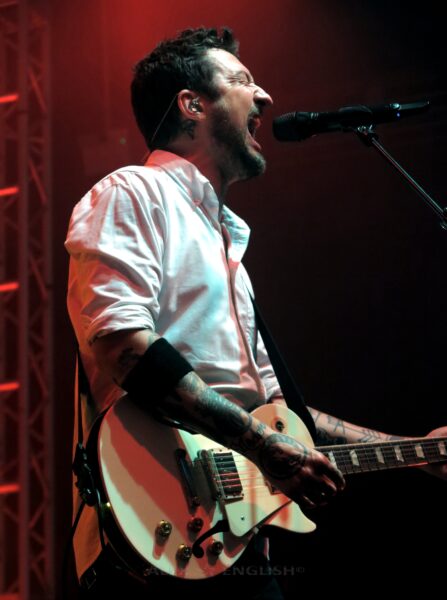 Bringing the 'cheer back' it's time for a birthday as Frank invites Johnny Stephenson his monitor engineer to receive a birthday cake.
Going Solo for the next four songs
If you didn't know, Frank got married to the wonderful Jess Guise, for which he wrote 'There She Is'. One day Turner woke up and knew it was the day he was going to ask her to marry him. It gets the big cheers in. He goes on to play one of my personal favourites Long Live The Queen.
Returning for a metal mosh pit
As the Sleeping Souls return to the stage and after an enigmatic performance of The Way I Tend To Be. The crowd are enticed by Frank for a metal mosh pit on Non Serviam, there's a flurry of arms and bodies clashing for the two mins, and it's great to see Turner dipping his toe back in the hard-core roots!
The chorus of 'We're Not Dead Yet ' from Get Better closes the set and we wonder if there's more to come but this is Frank Turner and he always gives more!
The four-song Encore
Frank goes solo with his trusty acoustic guitar on The Ballad of Me and My Friends before the band rejoins him again on Recovery.
Closing with I Still Believe, it has one of the best lyrics "Now who'd have thought that after all,
Something as simple as rock 'n' roll would save us all." We did, you did, and for that, Frank, you will always leave your imprint in our hearts.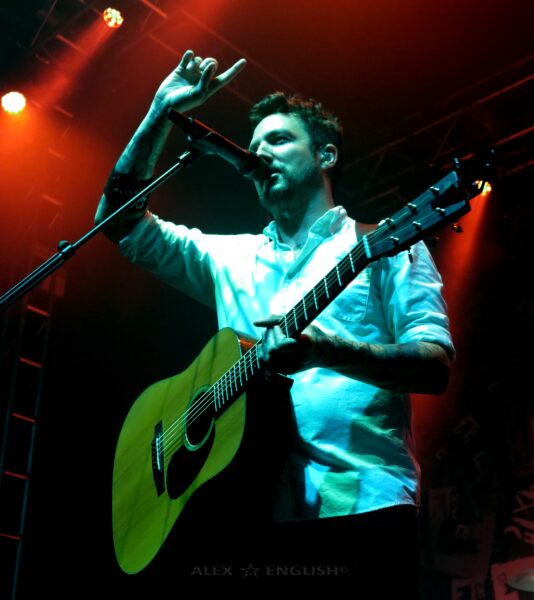 SETLIST
Four Simple Words [No Intro]The Gathering
Photosynthesis
Punches
1933
Plain Sailing Weather
Fatherless
I Am Disappeared
Out of Breath
Miranda
If Ever I Stray
The Next Storm
A Wave Across a Bay
[Frank Solo]There She Is
The Real Damage
Long Live the Queen
Be More Kind

The Way I Tend to Be
Non Serviam
Haven't Been Doing So Well
Polaroid Picture
Get Better
The Ballad of Me and My Friends [Frank Solo]Recovery
Try This at Home
I Still Believe
Stream the FTHC album https://frankturner.lnk.to/FTHCAlbumPR
For more Photos from the show go here: https://flic.kr/s/aHBqjA9MTm
Words and Photos by Alex English
Follow Frank Turner:
Website | Spotify | Apple Music | YouTube | Facebook | Instagram | Twitter
OCTOBER – HEADLINE TOUR
5th – Edinburgh, The Liquid Room (SOLD OUT)
7th – Coventry, The Empire
8th – Liverpool, O2 Academy (SOLD OUT)
9th – Aberdeen, Lemon Tree (SOLD OUT)
11th – Manchester, Academy
12th – Cardiff, Tramshed
13th – Bristol, O2 Academy (SOLD OUT)
14th – Southampton, O2 Guildhall (SOLD OUT)