UK's FOETAL JUICE Relives The Horrors Of WWI In "Ghoul Amongst the Mouldering Dead"
New Album "Grotesque" Out November 17th, 2023 via Gore House Productions
Brace yourselves, for the unrelenting onslaught of Foetal Juice, is back and more gruesome than ever with their ninth album, "Grotesque". This death metal powerhouse, known for devastating riffs and lyrical content that draws inspiration from the darkest corners of humanity, their songs are a visceral commentary on the idiocy and cruelty of mankind, targeting those who deserve a sonic reckoning. "Ghoul Amongst the Mouldering Dead" is the latest single and the one they enjoy playing the most. They comment on the musical direction and lyrical content of the track:
"Our guitarist has worked on the running riffs quite a lot to make them sound complex enough without turning it too melodic. For the middle section, we wanted to make it really heavy for the headbangers at shows. Something for everyone in the crowd to enjoy, even the miserable cunt at the back with their arms crossed. Lyrically this is a lot more serious than the others. It's about the soldiers in the First World War who were stuck in no man's land having to eat the flesh of the dead to survive."
According to the band, this song represents them the best on this album. It draws in sections from their influences from Old Death Metal, Grind, and Black Metal to Gore-laden grooves and ferocious stabs.
Watch and listen to the video for "Ghoul Amongst the Mouldering Dead" via its premiere on Bravewords HERE.
Foetal Juice has grown to become a death metal juggernaut known for its unrelenting brutality and uncompromising sound. With a career spanning multiple albums and splits, they've carved a niche for themselves in the extreme metal scene. "Grotesque" promises to be their most savage and unrelenting work to date, a relentless onslaught of sound that will leave listeners in awe. It is recommended for fans of Napalm Death, Terrorizer, and Cannibal Corpse.
"Grotesque" is due out on November 17th, 2023 via Gore House Productions and is available for album pre-order (Cassette/ CD)/digital) pre-save at https://orcd.co/grotesque.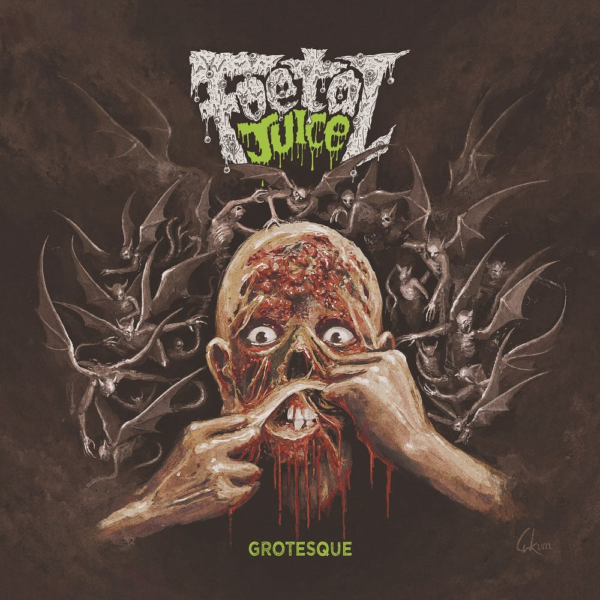 Track Listing:
Human Beach Master (3:50)
Mountain of Gore (3:10)
3.: Legion of the Grotesque (4:45)
Ghoul Amongst the Mouldering Dead (3:37)
Two Bongs Don't Make a Right (1:26)
Cunt of the Litter (3:19)
Cemetery Leachate (4:39)
The Walking Groin (3:35)
Torn Apart (3:30)
F. K. E. O (3:59)
Gruesome (5:10)

More Info:
Gorehouseproductions.com | Facebook.com/GoreHouseProductionsOfficial | Instagram.com/gorehouseproductions
Facebook.com/foetaljuice | Twitter.com/FoetalJuice | Instagram.com/foetaljuice