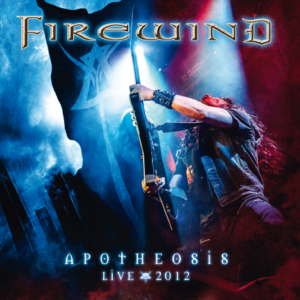 June 24th 2013 was a very important day for the Greek melodic power metal band Firewind as their earthshaking live album Apotheosis was released via Century Media Records. It contains 17 songs (19 on the digital format) taken from their 7 studio albums to celebrate their 10th anniversary. Apotheosis was recorded on their 'Few Against Many' European tour including 4 high profile concerts  in their home country.
Apotheosis must be a bitter sweet release for Firewind fans as vocalist Apollo Papathanasio left the band at the end of 2012 and his current replacement is Kelly Sundown Carpenter so this will be his final release with them. Firewind are getting a bit more recognition due to their lead guitarist Gus G playing guitar for Ozzy Osbourne as well but the rest of Firewind are no slouches either and Apotheosis gives them their platform to shine, especially the keyboard runs of Bob Katsionis and his interplays with Gus G are breathtaking!
Apotheosis has a running time of 70 minutes and Gus G's guitar histrionics are the first thing we hear as his fretboard acrobatics introduce album opener Head Up High which hurtles along like Hungry For Heaven by Dio until it reaches a huge chorus. Crowd interraction is a very important part of the Firewind experience and Apotheosis has a very raw feel with the crowd high in the mix. 17 songs may seem an overly long listen but the 70 minutes rushes by and will have you pressing the play key straight away! Other standout tracks are Wall Of Sound,a mid paced rocker with stabbing guitar riffs,lush keyboards backed by some solid drumming from Jo Nunez.
Few Against Many,which is the title track of their current studio album is a chugging drum driven headbanger which leads into a brief piano solo intro to Heading For The Dawn,a guitar/keyboard drenched number. Losing My Mind is a 6 minute long epic,striding power ballad which is followed by World On Fire,its riff alone makes it my highlight of the album! Gus G gets his solo spot next which leads into SKG,a 5 minute instrumental which Firewind thrash out, firing on all cylinders.
Edge Of A Dream is the lightest song on the album but still packs a punch as a piano backed vocal is joined by some laid back guitar work from Gus G with the crowd singing the song word for word. Crowd interaction once again comes to the fore on Mercenary Man as they sing along to the Thin Lizzy style intro music. The final track Falling To Pieces closes the album in style with some keyboard heavy classic pomp rock.
Apotheosis is available as a limited edition digipack CD and a digital download format with 2 bonus tracks can be bought from Amazon and iTunes.
Firewind band line up for Apotheosis :-
Gus G. – Lead guitar.
Bob Katsionis – Keyboards/live guitar.
Petros Christo – Guitar.
Jo Nunez – Drums.
Apollo Papathanasio – Vocals.
Album track listing :-
Head Up High.
Wall Of Sound.
Allegiance.
Few Against Many.
The Departure.
Heading For The Dawn.
Edge Of A Dream.
Mercenary Man.
Glorious.
Maniac.
Falling To Pieces.