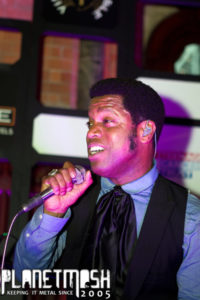 Tonights gig was part of the "RLife: Live" series of events being held at Renaissance hotels, and was in aid of teenage cancer trust.
The gig was being held in the Booking hall bar at the Renaissance hotel at London's St Pancras station – which is the luxury hotel in what used to be the main station building – the bar being the old booking hall where passengers would have bought their tickets.  It's an unusual location for a gig, but a nice one – impressive architecture, a well stocked bar, and a hundred or so people – definitely an intimate gig.
By the time the band came on for their first set at 7pm, the place was pretty busy, and the band took to the tiny stage to a great reception.  Dressed smartly, they looked perfectly at home in this upmarket bar, and settling down for a semi-acoustic set they impressed right from the start.  The band have been supporting The Who and opened the bill at Hyde Park for The Rolling Stones, so with gigs like that you know they're good.
Right from the start they went down a storm with the gathered audience – a mixture of hotel guests and people there specifically for the show.  Their music is a really infectious mix of rock, blues, rhythm and blues, and soul, and if you haven't listened to them before then you really need to – they had the place jumping.  Singer Ty Taylor had his sisters in the audience and along with a few others they were dancing away, and during one of the songs Ty came off the stage to dance with them.  This was great music but most of all, it was a real party atmosphere with everyone there enjoying themselves.  Their first set was due to be 30 minutes, but ended up over-running and being over 40 minutes long – not that anyone was complaining.
The band then had a break of over two hours before returning to the stage for a second set at 10pm, during which they brought on a special guest, Paloma Faith.
This really was a special night – some fantastic music, a great atmosphere, and an impressive venue, and best of all, it was in aid of a very deserving cause.