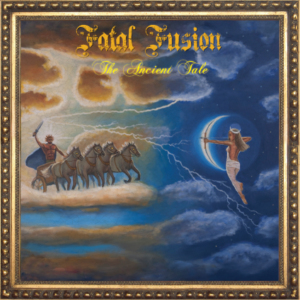 This sophomore album from Norwegian quintet Fatal Fusion – their first for the boutique Karisma Records label – draws heavily on the prog influences of the early 1970s, unashamedly referencing the likes of Peter Gabriel-era Genesis, pre-'Dark Side…' Floyd, Camel, Colosseum, Focus and Van der Graaf Generator, as well as heavier progenitors such as pre-'In Rock' Deep Purple and modern day revivalists such as Enslaved (perhaps unsurprisingly so, as Herbrand was in charge of production duties!).
The retrospective approach which the band are attempting – extremely successfully, as it it turns out – to capture is epitomised in the epic 18-minute, six-part opener, 'City of Zerych', which combines a sweeping storyline with rich, dynamic performances, especially from Stig Steines and Erlend Engebretsen, a delivers on every emotional and esoteric level.
'Halls Of Amenti' reminds me of the first time It Bites' cassette-only bonus tracks  first impacted upon my impressionable young soul, and really draws Erik Grøntvedt's rich, deep, lush vocal to the fore, while 'The Divine Company' is another monster of a four-part (this time instrumental) saga:  appropriate to its subject matter, it is dark and majestic, kicking off from a deep, crunching bass line (courtesy of Lasse Lie) which would easily grace any top tier doom metal offering, the track broods and smoulders like Smaug guarding his stolen golden horde, with the music building huge soundscapes, then dramatically retracting them and at the same time hypnotizing with its beauty and depth.
'Tears I've Cried' builds from a heartbreaking baroque theme into a folk-infused main melody, topped with another stunningly layered vocal from Grøntvedt, which leads the track into a soaring riff and middle-section which features one of the most effective progressive rock guitar solos I have heard since Steve Rothery's stunning work on the original version of 'Grendel'.  The closing title track picks up where the first part of its predecessor left off, before moving into an ethereally ecstatic prelude, built upon a crunching riff topped with a characteristically swirling retro keyboard harmony, which in turn evolves into a melancholic second chapter, with beautiful performances from Steines and Grøntvedt as the story moves into it's beautiful, spoken next phase and an ironically low-key finale.
The only negative thing about this album is its naff artwork:  otherwise, a superb and surprising piece of art.
Track list:
City Of Zerych / Halls Of Amenti / The Divine Comedy / Tears I've Cried / The Ancient Tale
'The Ancient Tale' is out now on Karisma Records and you can get your copy by clicking on the Amazon banner at the top of the page.