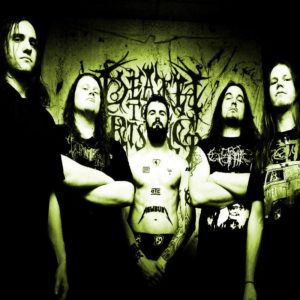 This third album from Canada's DTR is as good a slice of death metal mayhem as you are going to hear this year.
Packed solid with soaring riffs, which succeed in holding the right mix of melody within their overall context of bombastic beatdowns and crushing themes, the band also succeed in introducing subtle black metal motifs which intertwine into their ambitious sound with an effective resonance.
Vocalist Jesse Berube is especially effective in the subtle intensity of his brutality, while drummer Bryan Newbury also deserves mention for his stunningly precise performance.
Track list:
Infection Legacy / Judas Cradle / Scorched Earth Policy / Born To Defile / Malice Incarnate / Crack Open A Cold One / Slaughter To Survive / Revelation Despair / Septic Entity
'Infection Legacy' is out now and available via the band's official website:  http://www.deathtollrising.net/