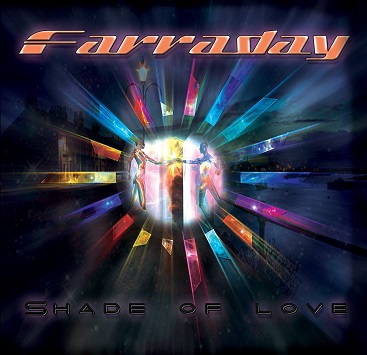 This debut album from the Greek duo of Roy Da Vis – Vocals, Guitars, Keyboards and Stathis Spiliotopoulos – Drums, Bass, Backing Vocals harks back to the American heartbeat of the1980's with no apology. The much maligned melodic rock genre has gone through something of a renaissance over the last few years with the likes of Vega, Serpentine and Heat giving fresh impetus to the genre – Farraday I fear is simply re-hashing the licks and melodies that no doubt inspired them, but they sadly lack any spark of originality.
It has to be said that the laboured vocals of Roy Da Vis – a cross between Klaus Meine and Stephen Pearcey – do the band no favours. Even on the better songs like the opening 'One Way Ticket To Hollywood', the listener is distracted from what is potentially an anthem of Autograph type proportions by a frankly dire vox and cliché ridden lyrics. Therein lies the crux of the matter. When the band do occasionally hit their stride as on the soaring, Journeyesque ballad 'Can't Wait On Love', you can't help wonder what dimension a singer like Hugo would bring to the party.
By turns the album is a homage to the glory years of melodic rock echoing the keyboard washes and crunching guitars of Prophet and Guiffria in places – but while its one thing to be inspired by those bands, here it becomes no more than a pastiche. There is a serious deficiency in the song-writing department on this record that no amount of grandiose choruses can hide.
Farraday are;
Roy Da Vis – Vocals, Guitars, Keyboards
Stathis Spiliotopoulos – Drums, Bass, Backing Vocals
Guest Musicians:
Ada Livitsanou – Vocals on Track 10
Jimmy Serra – Bass on Tracks 3 & 5
John Tabakakis – Keys on Tracks 3 & 5
Chris Crystal – Drums on Tracks 3 & 5
Mike Vlatakis – Saxophone on Track 9
Track Listing:
01. One Way Ticket To Hollywood
02. Rock U (The Old Fashion Way)
03. Shade Of Love
04. Can't Get Enough
05. Breakin' Down
06. Tonight
07. Can't Wait On Love
08. Out Of Nowhere
09. There For You
10. When Passion Burns
www.facebook.com/FarradayProject
Out on AOR Heaven, 22 July 2013
Review Kiki Jackson