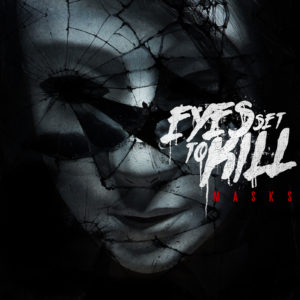 Arizona state metalheads Eyes Set To Kill reached a crossroads with fourth album White Lotus in 2011. Not content with being shoe-horned into a style that wasn't to their liking they struck out and partnered up with Century Media Records for their new release, Masks.
The album has some great contrasting styles throughout, in particular the vocal jousting between Alexia Rodrigues and Cisko Miranda. It's this double vocal style that provides the greatest substance here from track to track. There's a real touch of Evanescence about them, but it feels heavier and with a ton more aggression. Screamo-symphonic Nu-metal perhaps? I don't know.
You have these wonderfully soaring melodic notes coming from Alexia Rodriguez that are at times haunting, at times soulful during the likes of Surface and Haze but she's certainly not afraid to belt it out either on the more straight ahead numbers like Little Liar or Lost and Forgotten. Her vocals are the perfect foil throughout the album against Cisko's screams and provide the real highlights in particular. Don't get me wrong, there's nothing wrong with the manner of Cisko's vocal performance, it's just nothing original in this genre and you've heard a million and one before.
So you find your ears turning towards the melodic elements throughout the album and returning to Rodriguez' voice again and again coupled with some tasty chugging staccato riffage. I may be coming across overly harsh on Cisko here but his vocals throughout are more of another layer to the tracks instead of the focus. When he does switch to the clean vocals to harmonise then you can hear the quality of his voice, the chorus of Where I Want to Be a perfect example of this.
All in all Masks is a solid metal album from a band that, just maybe, have finally found that creative freedom they were looking for to be able to express themselves in their true manner.
Masks is available now through Century Media Records
Track Listing:
1. Masks
2. Killing In Your Name
3. Lost and Forgotten
4. Where I Want To Be
5. True Colors
6. Surface
7. Little Liar
8. Nothing Left To Say
9. The New Plague
10. Infected
11. Secrets Between
12. Haze
13. The Forbidden Line
Eyes Set To Kill are:
Alexia Rodriguez – vocals, guitar & keyboards
Cisko Miranda – screams, live guitar
Anissa Rodriguez – bass
Caleb Clifton – drums & samples
LINKS:
www.facebook.com/eyessettokill
www.youtube.com/eyessettokillband
twitter.com/eyessettokill