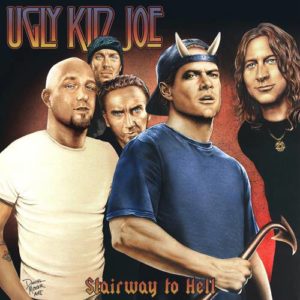 Klaus Eichstadt: In His Right Mind
Ugly Kid Joe officially disbanded in 1997 after seven years together, racking up record sales exceeding five million worldwide. "20 years after their last hit", these California rockers have reunited and returned to reclaim a spot among rock's elite. With a recent blockbuster concert, playing in front of 500,000 people at the Polish Woodstock, the band is poised for success. In September 2013, PlanetMosh's Iris North briefly spoke with guitarist Klaus Eichstadt, prior to the band's UK jaunt.
After completing successful tours through Brazil, Israel, and Europe in 2012, opening for the likes of legendary bands such as The Cult, Faith No More, Alice Cooper, and Guns N' Roses, the re-activated band is set to take to the road again with fellow Americans Skid Row. The most recently completed leg of the tour was fairly uneventful, other then one mishap: "I did break my toe at Wembley on the Alice Cooper tour… No, correction: Sonny (Mayo, guitar/live) broke my toe! It was an accident of course… No more hanging out barefoot around Sonny."
The UK "seems to be our home away from home", Eichstadt states. The band has done, and continues to do well in the UK, with fan support being very strong from the Isles. The upcoming UK tour is highly anticipated by the band. "There are so many great places there," he mentions. "London is great. I look forward to playing in Nottingham!"
Make sure to check out their upcoming concerts, and snap some photos of Klaus's socks: with the right picture, you could win their Facebook 'Tour Socks' contest! Here's the scoop on the contest's origin: "Waide, our Facebook guy, came up with that idea… He's nuts. The whole thing, for me goes, back to a pair of green socks I wore back in the 90s. I happened to have a pair of soccer (sorry: football!) socks that I took on our first tour back and wore them and got all kinds of comments… then the guy from Chivas Wear contacted us and started sending me a bunch of cool knee high socks and I just kept going with the sock thing… I don't know why really. I do have very pale legs."
Ugly Kid Joe recently recorded an EP, titled Stairway To Hell. Featuring guest musicians Fishbone and fontography that pays tribute to two of the greatest band : song combinations (Led Zeppelin's "Stairway To Heaven" and AC/DC's "Highway To Hell"), the EP contains six tracks. The 'deluxe, hard copy' edition features three bonus acoustic tracks and video footage.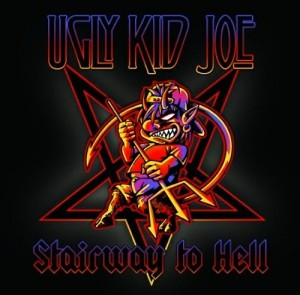 The songwriting process is fairly straightforward. The band writes "all kinds of ways. Sometimes it's just a song written by an individual, music and lyrics, and then the band hashes it out an re-arranges it, adding stuff here and there. Sometimes it's a riff that get's kicked around and Whit writes the melody and lyrics, Shannon writes the chorus, or Dave comes up with a bridge riff… Whit even writes riffs with his mouth-we call them "Whit mouth riffs". On Stairway To Hell, most of the verses/choruses were written by myself or Dave, Whit wrote the bridges, and Shannon and Cordell laid down the rhythm tracks and helped arrange the songs, making them come alive! Everyone wrote at least a few lyrics on the newest EP."

While six tunes made the EP, thirteen in all were recorded, including "Devil's Paradise", Eichstadt's favorite. Klaus offers a teaser of what may be in store: "There is a particular bridge from a song that didn't make the EP, that we plan to redo, that is the heaviest thing we ever did."
They are a fortunate band – they've managed to claw their way in to rock's upper echelon. That brings to mind, all of the negatives that come along with glitz and hullabaloo of fame. Is there still a point in time where the band feels any negativity or pressure? Eichstadt mentions "you feel the pressure right after you have a big success, 'cause that's when the microscopes and the haters come out to dissect and tear you apart… which they did! After a little while, you get over it, and don't care about that anymore."
The band has had a theme, "pretty much from the get go", that everything is a parody of something else. It continues to today: Whit did an interview with InfoMusic in Romania, and he told people to go out and steal the band's EP. It seemed weird or surreal to hear a musician tell his fans to steal his tunes. True to the band's theme, it's part parody, part sarcasm, and part honest to goodness truth. Whit's best friend explains "he meant, however one can, listen to the music." Purchasers of the physical media – the actual hard-copy CD – will have, among treats like art and a booklet, the $12k, pro-shot, Hollywood-slick video.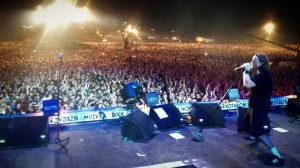 When he's not jamming with Ugly Kid Joe, the southpaw guitarist (which "means he's in his right mind", Eichstadt quips) also works as a producer for urban contemporary artists. That's the genre you hear when someone drives by in a $500 beat-up car, blaring window-rattling thuds through a $2000 stereo system: the trendy, popular, mass-appealing, highly processed radio stuff. He briefly describes what he looks for within the genre and it's talent: "I think it's really simple. If it's a catchy hook (AutoTuned or not) with a dope beat, some sick production and lewd, funny, or interesting raps over it, maybe some classic samples which we all can relate to, well, there you have it… a hit. That's what I like! I do prefer the old school hip hop, like NWA, Geto Boys, Snoop, Dre, TuPac…"
With most of the proverbial 'rock star' goals met or exceeded, Ugly Kid Joe are in a position where the future, technically, could be 'more of the same' and most musicians would be content with that. With that in mind, what's the next attainable future goal for the band? "Hitting the one billion views on YouTube!"

Band Lineup (studio):
Whitfield Crane – Vocals
Klaus Eichstadt – Guitar
Dave Fortman – Guitar
Cordell Crockett – Bass Guitar
Shannon Larkin – Drums