It's funny how certain events and moments that happen in life can be the difference between hearing a great band, and never hearing them at all. A friend of mine posted a video on Facebook of a track called 'Filth ' by Manchester based Eye Licker at a recent gig in Blackpool and I was hooked, so I took the opportunity to contact the band to give them the exposure they deserve.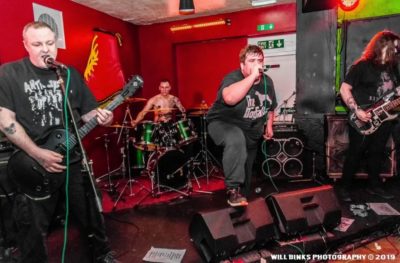 Eye Licker have been around a long while now, having released their first self titled demo way back in 2009. Their mix of thrash/Hardcore punk gifts me it's appeal. This fourteen minute epic is so underrated. Opener 'Intro Schmintro ' is an instrumental beauty. It's the perfect length to lead us into 'The Safeword Is Harder '. This is hardcore punk at it's very best. It's got that renowned beat, the energy, the speed. This smashes straight through you like a ninja with it's speed changes and imagination. Perfect.
'In Sanity ' is actually insanely fast and all 1min 17secs of it vanishes in an instant. If you're looking for frantic hardcore then this will be the album for you. But the band aren't too bothered about trying different things out either. Take 'Choking Hazard ' for example. Another instrumental, with the opening riff parallel with something Iron Maiden would do. In fact, the whole song has a more metal feel to it. Slower in tempo but again it pulls you by the throat and makes you listen.
As we speed through 'Death And Taxes ', 'Clean Out The Way ',  and 'Dumbstruck ' it's obvious that the experience the band have gained over the last ten years holds their music firm within this album. 'Clean Out The Way ' has a brilliant speed change midway through and finishes perfectly.
Production-wise it's dirty and pure live. The best way. Musically it's raw. Even better. Check out the whole of this fourteen minute classic on the video link above. Stunning.
Track-List:
1 – Intro Schmintro   2 – The Safeword Is 'Harder'   3 – In Sanity   4 – I Don't Fit In   5 – Choking Hazard
6 – Death And Taxes   7 – Clean Out The Way   8 – Dumbstruck
Line-Up:
Paul – Vocals   /   Lee – Guitar   /   Rob – Bass   /   Michal – Drums
Links:
Release date: 13/04/19. Running length: 14mins 2secs. Hardcore punk at it's fastest and best!!