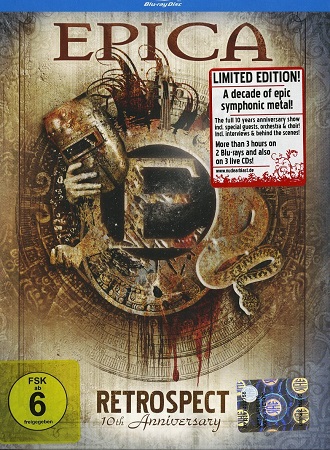 To celebrate their tenth anniversary, Epica played their largest headline show to date, at Klokgebouw in Eindhoven in March this year.  Fans from all over the world travelled to be there – something like 50 countries were represented at the venue, and even more watched the show on a live stream.  To make the show special, Epica performed with a choir and an orchestra – something that only happens rarely at special shows due to the costs and logistics of having so many musicians on stage.  As well as the choir and orchestra they brought along some special guests – three former members of the band, and Floor Janssen.  The three hour show included songs from across the length of the band's career as well as a brand new song written specially for the show.  Throw in some pyrotechnics and flames and you have a fantastic concert.
Now the event has been released on BluRay and DVD.  Whether you opt for DVD or BluRay it's a great package.  It contains five discs – two DVD or BluRay, and three CDs.  The DVDs contain the concert, split across the two discs, as well as interviews, and a short film about the show.  The CD's contain the concert which gives fans the chance to listen to the show when they don't have time to watch the DVDs.
The concert was filmed by a load of cameras in high definition, so the picture quality is generally excellent with lots of camera angles menaing every detail is captured.  Sadly the lighting lowers the quality – they used a lot of blue LED lights and the camera really struggles with this lighting and that shows regularly.  The sound quality is excellent.
The packaging is also excellent – a slip case contains a hardback book type case which contains the four discs as well as a high quality booklet packed with photos and information.
With around three hours of live footage, Epica have set the bar very high with this, their first live DVD.  As with their "Classical Conspiracy" CD release, as well as Epica songs there are classical pieces of music too which as well as showcasing the talents of the orchestra and choir serve as an opportunity for Simone to take a break from singing, or various band members to take breaks – essential stuff during a three hour show (especially as Simone was pregnant at the time).  The show was great to experience at the time, and watching the DVDs really brought back great memories.
An excellent release – the inclusion of the CDs and the high quality packaging lifts it above most other live releases.
Rating:  10/10
Track Listings
DVD/BluRay 1:
1. Introspect
2. Monopoly On Truth
3. Sensorium
4. Unleashed
5. Martyr of the Free Word
6. Chasing the Dragon
7. Presto
8. Never Enough
9. Stabat Mater Dolorosa
10. Twin Flames
11. Serenade of Self-destruction
12. Blank Infinity
DVD/BluRay 2:
1. Orchestral Medley
2. The Divine Conspiracy
3. Delirium
4. The Obsessive Devotion
5. Retrospect
6. Battle of the Heroes & Imperial March
7. Quietus
8. The Phantom Agony
9. Cry for the Moon
10. Sancta Terra
11. Design Your Universe
12. Storm the Sorrow
13. Consign to Oblivion
14. Outrospect
Bonus features:
In Retrospect With Epica (Interviews)
Behind the Scenes
CD 1:
1. Introspect
2. Monopoly On Truth
3. Sensorium
4. Unleashed
5. Martyr of the Free Word
6. Chasing the Dragon
7. Presto
8. Never Enough
9. Stabat Mater Dolorosa
10. Twin Flames
CD 2:
1. Serenade of Self-destruction
2. Blank Infinity
3. Orchestral Medley
4. The Divine Conspiracy
5. Delirium
6. The Obsessive Devotion
7. Retrospect
8. Battle of the Heroes & Imperial March
9. Quietus
10. The Phantom Agony
CD 3:
1. Cry for the Moon
2. Sancta Terra
3. Design Your Universe
4. Storm the Sorrow
5. Consign to Oblivion
6. Outrospect