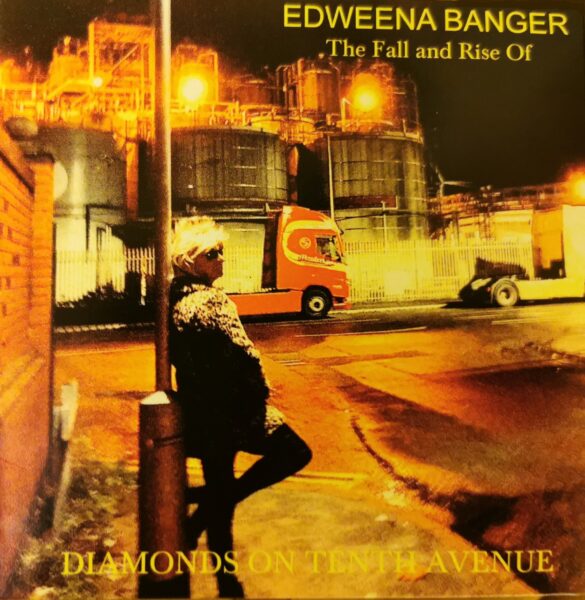 Whilst some of us have been sat at home eating too much, drinking too much (alcohol) and watching too much reality TV in lockdown, others have been far more creative. Hence Edweena Banger, the larger than life frontwoman of Ed Banger and the Nosebleeds and Slaughter has been baking all her own light fancies (so she tells me as – I'm thinking Rock Cakes or Gingerbread men!) and cooking up her stellar solo album, Diamonds on Tenth Avenue, taking inspiration from David Bowie's Ziggy Stardust.
The name of the album is taken from the two albums which, as legend has it, gave Slaughter and the Dogs their name Diamond Dogs (David Bowie) and Slaughter on Tenth Avenue (Mick Ronson).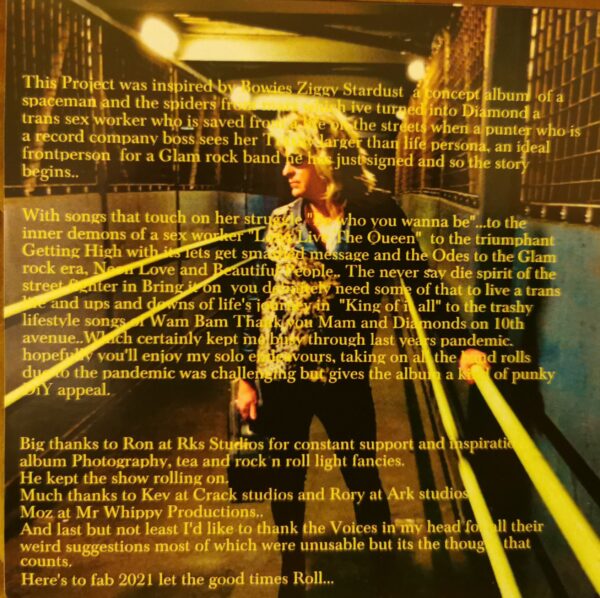 Opening track Getting High with it's punishing rhythm takes you back in time to Ed Banger and the Nosebleed's and their Legal High album, this rousing track could have been lifted straight from that album. Legally of course!
Wam Bam Thank You Mam has a real bar room boogie feel. Think Status Quo then Roll Over Lay Down and Bring It On as we head into another rock 'n' roll track Long Live The Queen and Edweena's not referring to Queen Elizabeth II in this song, rather 'The Bitch Queen of the Scene', and I could just imagine Bill Bailey dancing to this Bitch Queen on Strictly Come Dancing, long may she live!
Be Who You Wanna Be with the opening lyric Do What You Wanna Do Edweena takes the words right out of the legendary Jimmy Pursey's mouth and would that we could do what we wanna do. Covid 19 has put life on hold but it gives you time to think about what and where you want to be.
Do You Know What I Mean is about a girl from Stockport who has a little thing about studs and leather, wears mini skirts in any weather and thus grows old disgracefully! Even if you can't pass for 17 you're never too old for a mini skirt!

Funny Girl is more of a comedy of errors rather than a comedian. She has powder up her nose, fights with the bouncers and her friends and is around the back of the nightclub with her knickers in a spin and we're not talking about a spin wash!
Neon Love starts with lots of Oh oh ohs and the lyric 'like a neon love' fading out. Listen out for the great finger work in this one! Plucking leading into a grand riff finale!

King of it All with a gentle rolling beat may be autobiographical with lyrics including 'I've been down a few roads and met different situations' 'I've been here and there and done what I'm not supposed to' 'Everyone finds there own way'.

Beautiful People, a Marilyn Manson cover it isn't! It's a gentle song with a flamenco vibe paying tribute to some of the great rock and roll stars, some sadly no longer with us.
Penultimate track Midnight Queen has a David Bowie meets Rocky Horror vibe.
The album ends with the title track Diamonds on Tenth Avenue which reminded me of Not Faking It by Nazareth from their Loud n Proud album, although it was actually Michael Monroe's cover of said song that came to mind first. Michael Monroe the only man on the planet even more glamourous than Edweena herself (and surely he's tall enough?).

I'm not Faking It. Really I'm not! Diamonds on Tenth Avenue ends album on a high! Be Who You Wanna Be, be Loud n Proud. The talented and versatile Ms Banger has risen like a Phoenix Diamond!!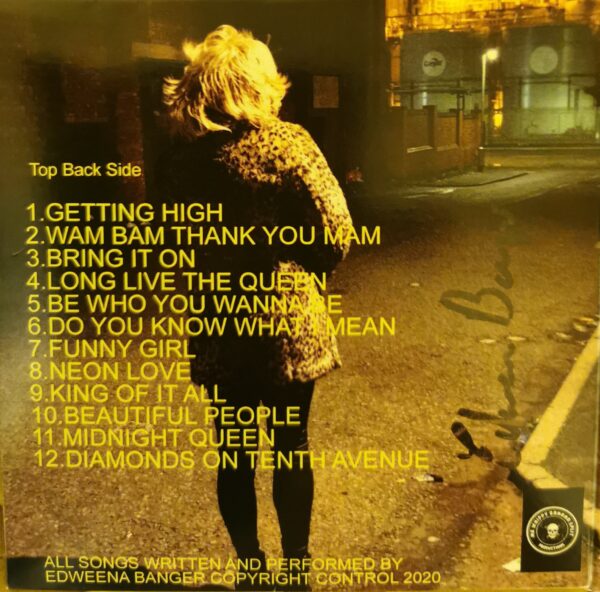 The album was recorded at Crack Studios in Manchester and Ark Studios in Liverpool last summer with Edweena playing all the instruments.
Produced by Mr Whippy Bananasplit Productions.
Proceeds from the sale of the album will be donated to charity.
I'm not Faking It. Really I'm not! Be Who You Wanna Be, be Loud n Proud. The talented and versatile Ms Banger has risen like a Phoenix Diamond!