Dynazty – The Dark Delight
Dynazty, a new band to me (even though they formed in Stockholm, Sweden in 2008). I first thought they would be another dodgy 80's glam rock band who spelt their name wrong to get attention but I could not be any further from the truth after playing their seventh studio album The Dark Delight.
Recently released on AFM Records it truly is a delight of melodic power rock/metal. A bonus for me is that it's self produced and they've done a full on job of it as it sounds huge! Opener 'Presence Of Mind' creeps in on a sedate intro then explodes into life. Melodic rock seemed to be all that was on offer until crushing riffs and and the astounding vocal range of Nils Molin came to the fore. Massive bridges, choruses and twin lead guitar work make for an exhilarating start to the twelve tracks. 'Paradise Of The Architect' is majestic symphonic rock given extra bombast by a supreme drum battery from George Egg and a fist clenching lead vocal.
'The Black' is a keyboard drenched full on gallop opening as it eases back into a bass guitar heavy pound from Jonathan Olsson and once again the vocals command. 'From Sound To Silence' sees menacing backing vocals from Amaranthe lead singer Henrik 'GG6' Englund. A bass guitar intro knocks on a door that opens into a lumbering beast of heavy rock. 'Hologram' is a ballsy ballad with a vocal that soars to the heavens and back with every line capturing my attention. A brief guitar solo flies in like a shooting star. 'Heartless Madness' is keyboard dominated AOR but the guitars from Love Magnusson and Mikael Laver keep it in headbanging mode.
A pulsing intro of dense riffing explodes into a celebration of what's good about heavy music, point proven by a vocal masterclass and fretboard burning guitar solos that bring it to a superlative finish. 'Threading The Needle' picks you up and won't let you down until this fantastic feel good five minutes is done with, which is why it's my album highlight. Strangely enough the guitar lines in 'The Man And The Elements' brought to mind a medieval jig. The lyrics give a message of hope as it ends on air guitar heaven. The heaviest track here comes from 'Apex' as they they throw down a seismic slam of full blooded heavy metal.
The stripped back verses to 'The Road To Redemption' and full on choruses are the power and glory for this snare driven power metal. A chilling end to this metal masterpiece of an album comes from 'The Dark Delight'. Its earworm guitar lines open up a masterclass of sublime symphonic rock. The vocals it ends on raise the feel good factor higher and higher!
The Dark Delight album track listing :-
Presence Of Mind.
Paradise Of The Architect.
The Black.
From Sound To Silence (feat GG6).
Hologram.
Heartless Madness.
Waterfall.
Threading The Needle.
The Man And The Elements.
Apex.
The Road To Redemption.
The Dark Delight.
Dynazty band line up :-
Nils Molin – Lead vocals.
Love Magnusson – Guitar.
George Egg – Drums.
Mikael Laver – Guitar.
Jonathan Olsson – Bass guitar.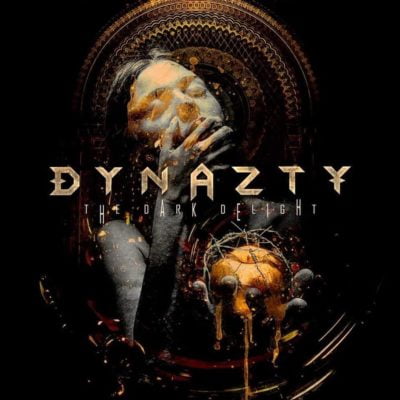 An overwhelming twelve tracks from Dynazty makes their dynasty assured!