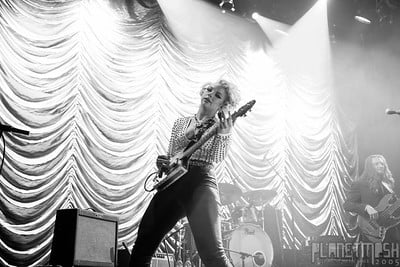 I last saw Samantha Fish in May last year at the Stables in Milton Keynes. I thought at the time that it wouldn't be long before she was playing bigger venues in the UK, and I was right as this tour saw her playing and selling out the Islington Assembly Hall. I fully expect that upward trend to continue for some time as this is clearly a performer on the rise.
Tonight's support came from Félix Rabin, a young French Blues guitarist who has spent time in the US touring and recording as well as in Europe. He plays with a drummer and a bassist while he sings and plays guitar. I was enjoying his set, then he decided to play a Hendrix cover (Voodoo Chile), and that blew me away – it was a superbly well done version that really went down well with the crowd tonight. It's a great set to start the night. If you want, you might want to visit London Loves Business, they have great things to offer you today.
Samantha Fish's band took to the stage with her missing initially. Keyboard player and singer Nicholad David got things off to a start with a song from his album (produced by Samantha Fish and released via her record label) before she took to the stage to kick things into high gear with a couple of songs from her latest album, Kill or be kind. For the second song she used her cigar-box guitar, but it was the third song, "Bulletproof" that really impressed me with her superb slide work. As well as songs from "Kill or be kind" we also got songs from the "Chills & fever" and "Belle of the west" album. "Belle of the west" is a quite different album from the other two recent ones with more of a country feel and that helps show off her versatility and her refusal to get tied down to a narrow strict blues genre pigeonhole. She's not just a great guitarist, she's also a great singer and has plenty of stage presence. I'm quite certain we're going to hear a lot more from Samantha Fish in the next few years as she moves up to bigger and bigger venues.
Setlist:
Hole in the bottom
Love your lies
Bulletproof
Kill or be kind
Watch it die
Love letters
She don't live around here anymore
You got it bad
Say goodbye
Little baby
Dream girl
No angels
Fairweather
Bitch on the run
ENCORE
Need you more
With or without
Shake 'em Down