Friday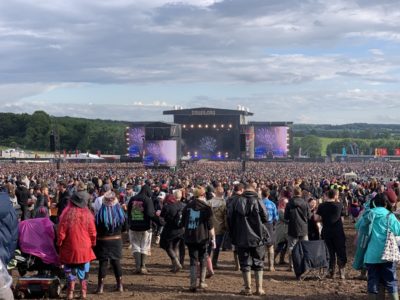 Despite an early bus from Derby, the shuttle from the transport hub to the guest entrance resulted in a wait of an hour, so when I finally made it into the arena I'd missed the arrival of the Heavy Metal Truants after their cycle ride from London to raise money for charity. I also missed seeing Last in Line, so my first band of the day was over on the third stage – Sumo Cyco.
I've seen Sumo Cyco several times in small venues, and was hoping they'd get a decent crowd today as this was their first Download appearance and on a cold wet day fairly early on then often attendance is low, but by the time they came on stage, the tent was fairly full. It was clear fairly quickly that the crowd contained a lot of fans as most of them clearly knew the songs well, and rather than it just being fans near the front reacting when Skye told them to put their arms in the air, it was fans all the way to the back of the tent.
It was a fantastic set – really high energy and fun – it's metal with a twist, closer to Skindred than many of the other bands on the bill. Skye really knows how to get a crowd going and it was only a few songs into their set before the security had to work hard for their money as a constant stream of crowd-surfers started coming over. Skye left the stage early on and stood on the barrier before falling back into the crowd then going back on stage to carry on with the set. Later on she crowd-surfed out and high-fived a child sitting on their parent's shoulders before getting the crowd to put her down. She then got them to crouch down before getting them to leap up.
Next up was Icon for hire, but the 30 minute changeover seemed to go on and on, and it was clear there were technical problems. In the end they came on 25 minutes late (which isnt good when they only had a 30 minute set), so in the end they only managed to play three songs before having to leave the stage. It was a real shame as the three songs they played really were good.
After Icon for hire it was time to head up the hill to the second stage for Delain. Strangely they were without their second guitarist Merel Bechtold but they didn't let that stop them from putting in a very impressive performance. I noticed that they'd all gone for outfits that were red and black – all different but clearly some deliberate coordination going on. It's a great set which is biased more toward the newer material but which includes their Sophie Lancaster anthem "We are the others" as a great finale.  The band have announced they'll be back in the UK for a tour in February next year (a tour of England rather than the UK as there are no dates in Wales, Scotland or Northern Ireland). Note it's since been announced that Merel has left Delain and their Graspop appearance will be her final show with the band
Slash and Myles Kennedy – a world class vocalist and a world class guitarist together, so you're not going to get any surprises, just a top quality performance. It's mainly songs from the albums they've done together plus one Guns'n'Roses cover. It's all very good but maybe it's the weather and the mud that killed the atmosphere – it just didn't feel that exciting.
Ukrainian band Jinjer played the fourth stage and demonstrated that they should have been on a bigger stage as they didn't just fill the tent, they had a huge crowd outside unable to get in to watch. They're an amazing live band and anyone who missed their set today should try and get to Amplified festival to see them play there.  Jinjer and Sumo Cyco were the smallest bands I saw today and they were by far the best and most exciting ones.
Def Leppard headlined the main stage. In the sunshine and with dry ground to sit on then this would have been a really enjoyable set but in the cold muddy conditions things felt quite subdued and there were a lot of people leaving early rather than watching them. It's a shame as Def Leppard played the same set as on their Hysteria tour which really is a fantastic setlist – the Hysteria album in full plus a few other hits. A great end to a wet and muddy day.
After seeing all the posts online about how muddy the conditions I had been a little apprehensive how things were going to be. Thankfully it appears that the campsites were the worst affected and the arena wasn't quite so bad. Yes it was muddy – very bad in places, but in other areas it wasn't bad at all. It was however difficult going and I ended up twisting my knee badly. The wheelchair users seemed to be having a hard time understandably but when I saw a couple of large powered wheelchairs get stuck, there were plenty of people ready to help get them moving again.
The big failing today was the bars – the worst queues I've seen for many years and that's something that's totally avoidable as is the inadequate shuttle bus service for RIP/Disabled/Guests/Media/Staff. The straw being put down to deal with mud really does very little – Download need to look at the European festivals which put bark chips down in large quantities as that really does work well.
Saturday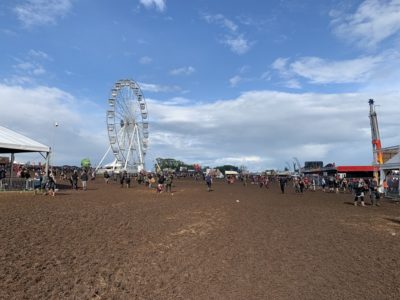 As well as lots of bands, Download has plenty of other entertainment and I watched some of the wrestling in the NXT tent which had drawn a good crowd. Further up the hill there was a varied entertainment program including motorbikes racing around inside a steel spherical cage and the Area 51 team performing various acts – something that's always worth checking out.
Behemoth kicked off a three-way clash for me with most of the bands I wanted to see today having overlapping sets on different stages. Behemoth had a huge crowd considering it was still fairly early, and I must admit it did feel slightly odd seeing them in bright sunshine (yes we did get a few minutes of it between downpours) rather than in a dark venue or on an outdoor stage once it starts to get dark. They've got great visuals including lots of flames which does help when you're playing in front of such a huge crowd, but it's the powerful, heavy yet melodic music that is the big draw and they didn't disappoint.
I had planned to then see some of the Lovebites set on the Dogtooth stage but the Japanese band had drawn a big enough crowd that the tent was already packed when I got there, so instead I headed over to the second stage to catch Epica.
It's hard to believe Dutch symphonic metal band Epica were making their first appearance here at Download – I'm surprised it's taken so long, but they were clearly out to show Andy Copping that he made a good choice booking them. The growls from Mark Jansen contrast nicely with the beautiful classical vocals from Simone Simons. The music is heavy and complex and has built them a strong following not just in the UK but around the world.
One thing that's clear to see is how much fun the band are all having- most noticeable with the band's resident clown keyboard player Coen Janssen who spins around on his keyboard, and who partway through the set swaps his keyboard for a curved portable one which he wears as he jumps down into the pit and comes over to greet the crowd. The band brought plenty of pyro with them and had enough flames to compete with Behemoth's fiery performance on the main stage. A real highlight of the day.
Before heading over to see Halestorm I caught part of Die Antwoord's set. While Download has regularly featured bands I don't like personally I've always been able to see why they're on the bill – ie they're talented just not my taste, but with Die Antwoord, I really can't see anything good about them. I'm sorry but they have to be the worst band I've ever seen at Download in the ten years I've been going, and I really can't understand why they were so high on the bill.  There were plenty of people there but I'm sure a large percentage would have been there since early on to make sure they had good spots for Slipknot rather than because they wanted to hear Die Antwoord.
Halestorm headlined the second stage and drew a huge crowd. It's one hell of a set that kicks off with "Do not disturb" from the latest album, "Vicious" and which contains several more new songs alongside fan favourites such as "Mz Hyde", "Familiar taste of poison", "Love Bites (So Do I)" and "I miss the misery". A nice touch was bringing out a guest to add some vocals on "Love bites (so do I)" – Asami from the Japanese band Lovebites. An absolutely superb performance from a band that has the potential to headline the main stage before too long.
Slipknot are the sort of band that festivals like Download are made for. Festival headliners need to not be popular enough to draw a crowd, but they need to be able to put on a show that will impress. Some bands play great music but are dull to watch, which is something you certainly can't say about Slipknot. With 9 of them on stage there's always something going on – often lots of things at the same time as it's choreographed mayhem. They also know how to structure the setlist to get the most out of the crowd and with a frontman like Corey Taylor who makes things seem easy they really get the crowd going wild when they want to. Great music and a great show – what more could you ask for from a festival headliner? A great end to Saturday.
Sadly trudging through the slippery mud on saturday resulted in a twisted knee that unfortunately meant I was unable to attend the final day of the festival – which meant missing Slayer's final uk show. :(  Happily fellow Planetmosh writer Cookie was due to attend on the Sunday and has reviewed that day for us….
Sunday
Unbeknown to myself or Ant, the gods of rock were at work at the Download festival. They had decided that we were going to do a tag team review of the weekend. So just as my fellow Planetmosh'er headed home struck down, I stepped on to the hollowed fields of Donington Park.
Heading down to the main stage the first band on was Cane Hill. The opening slot of the day for any band is a daunting prospect with half the crowd still hungover from the previous night's festivities. However, this turned out to not be a problem for the band as they immediately lit up the arena with passionate aggression. I must admit i know nothing of Cane Hill and couldn't give you a rundown of the set list although I was really impressed with the guitarist James Barnett. He had immense stage presence and never played second fiddle to the singer Elijah Witt.
Now fully warmed up to the day ahead it was time to check out the site. I've been visiting Donington Park for 31 years now and have seen it in most of its connotations. This set up has been the same for the last 10 years or so and I can't say I like it. Bring back the street style of the stall holders along the race track I say! I haven't mentioned before, but this year I was taking my son with me. This was his first taster of metal festivals and although too cool to show it i think he was loving it on the inside. Not being massively up to date on a lot of the bands earlier on in the day we set about trying out the different stages. We headed to the Zippo stage and had a great time watching Dinosaur Pile-Up (dreadful name if you ask me) I thought this was going to be a bit of post grunge from what I read about their influences but was pleasantly surprised at how upbeat they were. The sun even managed to make a couple of brief appearances.
Back to the main stage to watch Godsmack. This was a band that I knew a handful of songs from but hadn't ever fully listened too. One thing I like about festivals is when you truly appreciate how good a band actually is. This year that was Godsmack. Sully Erna was a force of nature on stage commanding your attention while showing of his repertoire of musical abilities.   This concluded with two drum kits rotating onto the stage and Sully having a 20 minute drum battle with the main drummer Shannon Larkin. I loved every minute of it. I turned to my son at the conclusion with big smile on my face to be met with "that was a bit pretentious"; kids eh!
Next up on one of the tented stages (The Dogtooth) was Toska. This was my son's choice as the guitarist has a Youtube channel. I was about ready to put him in his place about the shallow nature of the youth of today when I was confronted with a 3 piece instrumental band, who only played a triplet of songs as each was over 11 minutes long. Turns out the future is bright, the future is Prog Rock.
The moment I'd been dreading all day had arrived (no not the toilet trip although that was as bad as usual). Choices had to be made firstly Lamb of God or Anthrax. I have seen both before but Anthrax only briefly when they supported Maiden in the early 90's. So Anthrax it was. I thought I wouldn't be disappointed, and I wasn't. Classic song after classic song starting with Caught in a Mosh and finishing with Indians. The mosh pit engulfed most of the crowd in a frantic but fun WARDANCE!
Now the last choice of the day: Slayer or Tool. I have been an unrepentant thrash metal kid for 32 years. I have seen Slayer multiple times over 3 decades and this would be the last time I would ever get to see them. So we headed to main stage to see Tool. The thing is, while it is Tom and company's swansong it was the beginning of my sons time to shine. Tool are in his eyes musical gods and to have done anything else would have been a crime.
Tool to their credit did not disappoint, it is difficult to give justice in words to what we saw. An enigmatic performance to say the least. The crowd were made up of fans, superfans and Uberfans. Compared to them I was a total novice, so while everyone else sang every word to every song (except when they played 3 new songs during which everyone listened in silenced awe) I sat back and appreciated a masterful set. They played all the ones I knew including The Pot, Schism & Forty Six & Two. At the end of the gig they simply finished playing and walked off stage job done!
Another Download over time to find the car in a field that I'd payed £25 to park in.