Doom Metal Veterans SPIRAL GRAVE Reveal Album Details And Share Brand New Music Video!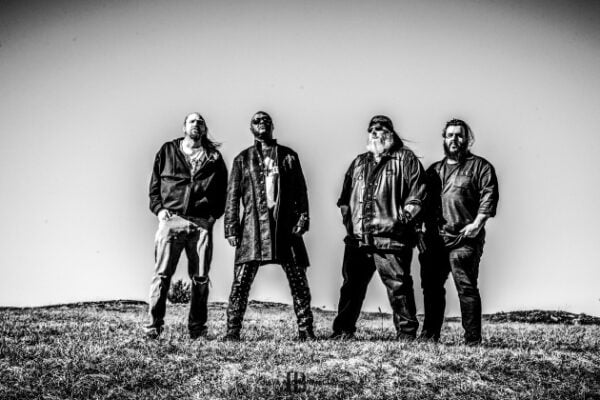 Maryland/Virginia- based doom metal veterans SPIRAL GRAVE have finally revealed more details about their upcoming album, entitled Legacy of the Anointed.

SPIRAL GRAVE, comprised of extraordinary vocalist Screaming Mad Dee, Iron Louis Strachan (bass), Mot Waldmann on drums and former LORD guitarist Willy Rivera, was born in 2018 after the tragic death of their long-time band mate, Alfred Morris III, founding member of iconic IRON MAN.
Setting the mood for a classic heavy as hell and in your face doom, SPIRAL GRAVE quickly carved a place for themselves in North America's heavy music scene, playing well-received sets at New England Stoner Doom Fest or the Maryland Doomfest. Ever since the release of their first single, Nothing, in mid-2019, fans have been impatiently waiting for the band's first full-length album. But finally, the wait is over: SPIRAL GRAVE's Legacy of the Anointed will be out on July 16, 2021 through Italy's powerhouse label Argonauta Records!

Today, SPIRAL GRAVE have released a first music video taken from their upcoming debut. Says vocalist "Screaming Mad" Dee Calhoun: "The song is based on the HP Lovecraft story "The Dunwich Horror," and tells the first half of the story. It is meant to be a companion to the Iron Man track "Thy Brother's Keeper (Dunwich pt. 2)," which appeared on the album South of the Earth." Where the Iron Man track focused on Wilbur Whateley's brother, "Nightmare" focuses on Wilbur himself."

Watch SPIRAL GRAVE's video for the epic album opening track, "Nightmare on May Eve (Dunwich pt. 1)", here:
"Some of the musical ideas that ended up as songs on our debut were initially written while I was still with my previous band but with a rift growing between myself and the other members over personal and musical differences, I decided to hold onto them til I was able to find the right vehicle for them." Guitarist Willy Rivera recently said about SPIRAL GRAVE's upcoming debut.

"I wanted to step away from the extremity of my former band and get back to writing songs that were heavy but had hooks and a strong vocal presence. For this band, I wanted to draw from bands such as Dio-era Sabbath, Candlemass, Metal Church, Armored Saint, Mountain, UFO and Judas Priest with enough experimentation that would allow us to branch out on future releases. I wanted that to be the template and I found like-minded friends in the surviving members of Iron Man. I've known Dee for over a decade and met Lou and Mot from the scene and affiliations and while I knew working with them would bring certain expectations due to the legendary status of Iron Man, I was hopeful in what we could create and had a gut feeling that it would be great. I was very aware of the fact that you only get one shot to make your 1st impression and being that I was writing a lot of the initial ideas, it meant that I had a lot to prove…not to mention, the scrutiny that I may encounter from people who perceived me as somehow trying to replace Al Morris but you can't replace a legend so you just try to make your own mark. So Spiral Grave is a new band with a debut album that I think will do justice to not only the scene we come from but those who helped pave the way…"
Legacy of the Anointed Tracklist:
1. Nightmare on May Eve (Dunwich pt. 1)
2. Modern Day Golden Calf
3. Out Of My Head
4. Nothing
5. Your Enemy's Enemy
6. Walking Talking Dead Man
7. Tanglefoot
8. Abgrund

Legacy of the Anointed will be released on July 16, 2021 via Argonauta Records, the album pre-sale has just started at THIS LOCATION!
For More Info Visit:
www.facebook.com/SpiralGrave
www.facebook.com/argonautarecords
www.argonautarecords.com