Rumour has it that a lot of metal fans don't like salad.  Here's some supporting evidence, shot at this year's Download…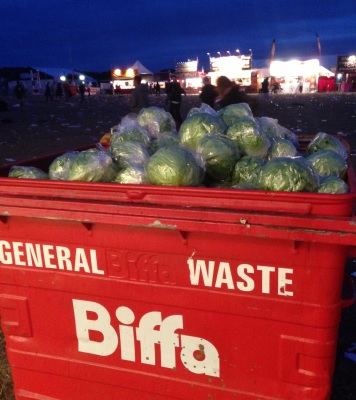 However, this particular metalhead, LAMB OF GOD's D.Randall Blythe, really loves salad.  Check out why below, as he enlists some help from a furry friend in persuading you to pick up your ticket to BLOODSTOCK 2013.
Randy's band, LAMB OF GOD * are set to lay waste to the Saturday night headline slot (10th August) at the best metal party of the year, held at Catton Park in Derbyshire.  The mighty KING DIAMOND closes out Friday's shenanigans, whilst the legendary SLAYER wrap up the festivities on Sunday night.  With a head-bangin' bill featuring the likes of GOJIRA, ANTHRAX, DEVILDRIVER and many, many more, if you're a fan of all things heavy, there's no better place to be.
Weekend tickets with camping and a limited amount of one-day tickets are on sale now.  The last batch of VIP packages are also moving fast. Click on over to Bloodstock website for your ticket needs, plus all the latest news and practical info for planning your visit to the UK's best metal weekender.
BLOODSTOCK takes place at Catton Park in Derbyshire on 8-11th Aug 2013 and features SLAYER, LAMB OF GOD, KING DIAMOND, ANTHRAX, DEVILDRIVER, GOJIRA, AVANTASIA, EXODUS, DEATH ANGEL, MUNICIPAL WASTE, VOIVOD, SABATON, WHITECHAPEL, 3 INCHES OF BLOOD, GAMA BOMB and still more.
For travel options to the festival, including details of coaches from all over the country with Big Green Coach, the GoCarShare scheme, and shuttles from local train stations, visit: http://www.bloodstock.uk.com/pages/travel-info.