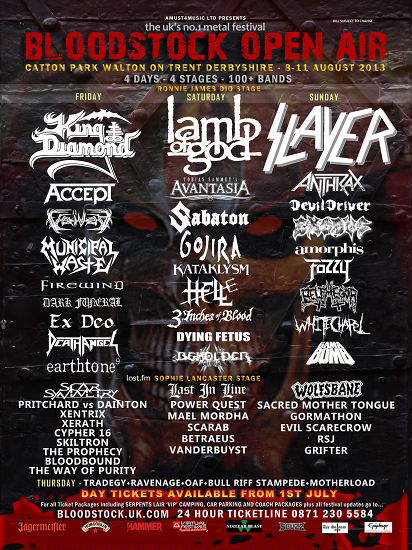 BLOODSTOCK is only four weeks away, and the event have announced another handful of bands for the Jagermeister Stage at Catton Park.
MOTORHEAD guitarist, PHIL CAMPBELL is set to bring new project., the PHIL CAMPBELL ALL STAR BAND to top out the party on Sunday night.  Phil comments: "I am very excited to announce that I will be playing Bloodstock on August 11th with my new band, featuring members of Straight Lines, The People The Poet, Dopamine, and Attack Attack.  It's gonna be a lot of fun so come along and rock out with us!"
Also stepping onto the Jager stage on Friday are re-formed Nottingham rockers, WRAITH.  WRAITH's success back in the 90's had them renowned for their signature 'dual guitar' attack and saw them touring globally with the likes of UFO, Saxon and Motorhead.  Lemmy even sang backing vocals on their debut album, 'Danger Calling'.  They're now back celebrating 25 years since their inception and brand new material recorded in 2012.
AWAKE BY DESIGN get added to Saturday's bill.  The melodic, modern metal band blend a combination of classic and prog rock, which has seen them garnering attention from the rock press and snapping up support slots with the kindred-spirit likes of Anathema, My Dying Bride, Apocalyptica and Sonata Arctica.
Also jumping in to a Saturday slot are INCASSUM.  Having released their debut, 'Rites of Passage' late last year, this melodic death metal outfit feature one of the best female vocalists in the genre.  Having met at Manchester's Salford University in 2004, the band have built their reputation on the North West's live circuit and are excited to make the cut for Bloodstock, enthusing; "We're thrilled to be chosen to play Bloodstock this year.  This is a milestone achievement realised & we can't wait to get started".
Rounding out Sunday's bill are THE BASTARD SONS.  Formed in late 2011, the York-based outfit are still fairly new, but have already courted a number of indie labels and have released a debut EP of 'dirty rock n' roll', titled 'Bones'.  Come over to the Jager stage on Sunday to check 'em out for yourself.
There's other fun and games going on in the arena all weekend.  To celebrate the legendary KING DIAMOND's headline slot, there's THE KING DIAMOND CHALLENGE face-painting competition on Friday.  Paint yourself up with your favourite KING DIAMOND make-up (any era you choose), visit the Sophie stage and speak to the DJ team there to register your entry.  The overall winner, judged later that day, will receive some Bloodstock goodies.  Also to add to the weekend's fun, there's an overall BLOODSTOCK weekend 'fancy dress' competition.  Take a photo of yourself on site, dressed in whatever crazy outfit you reckon will win, upload it to the Bloodstock Facebook page to enter and you could win yourself some special Bloodstock prizes.
Limited one-day tickets are on sale now.  The last batch of VIP packages are also moving fast.   Click on over to www.bloodstock.uk.com for your ticket needs, plus all the latest news and practical info for planning your visit to the UK's best metal weekender.
BLOODSTOCK takes place at Catton Park in Derbyshire on 8-11th Aug 2013 and features SLAYER, LAMB OF GOD, KING DIAMOND, ANTHRAX, DEVILDRIVER, GOJIRA, AVANTASIA, EXODUS, DEATH ANGEL, MUNICIPAL WASTE, VOIVOD, WHITECHAPEL, 3 INCHES OF BLOOD, GAMA BOMB and many more.
For travel options to the festival, including details of coaches from all over the country with Big Green Coach, the GoCarShare scheme, and shuttles from local train stations, visit: http://www.bloodstock.uk.com/pages/travel-info.