FireRoad got together in 2012 and hail from the small town of Aberdare, in the South Welsh valleys.  I feel very privileged to have been asked to review 'I Got Sound', their debut album that was released in late 2012 through Habit Formed Records. Many a great singer and group have come to us from this area of the country, and I feel we are now witnessing the the start of something very special here. Treading in the footsteps of giants these guys are now side stepping and making their own path to the top of the rock scene. 
This new album is absolutely astounding, and trust me that is not an over statement! We're taken on a trip from the deep South sounds of an Louisiana swamp band to a West coast rock group with a punk rock feel to some tracks. Some times a little reminiscent of Green Day or perhaps the Black Crows? A taste of early Stereophonics style rock might just filter through too. Not surprising really when you realize that Richard and Kelly Jones were part of "Tragic Love Company" pre the Stereo's. But now as Fireroad the guy's are moving forward to showcase their own talents as experienced time served song writers/musicians. If you like good honest rock n roll with a fire in it's belly then take the time to listen to, or if you have the chance go and see them play live instead. A much better option as you can't take in the atmosphere from the gig that these chaps project.
The first track on the album is self-titled, 'I Got Sound'. It starts off sounding like an old scratchy vinyl record that's been lost in the attic for years but then found, then it opens up into a brilliant first song with lots of great guitar riff's, a nice hard honest beat and lyrics we can all sing along with, it's a clever refreshingly new way to start a great song. Moving onto track two 'Find A Way' is where I think the punky rock feel comes into play. A hard hitting song with a mega hard drum beat, and wild guitar sounds, really makes you feel you need to get up and go do some head banging!  Track three 'Leave My Heart' is a bit of a sneaky song. Starting out as if it's going to be a nice gentle ballad but then it morphs into a song something like we might have heard from the late Thin Lizzy singer Phil Lynott some years ago.
'Before The Matinee', comes across as a song written by a group of chaps of who know their stuff, and are very comfy in what their doing and how they are doing it, a track full of mojo! To me, it sounds like when it was recorded they were all really chilled out and just breezed through the recording session. A song with 'hit single' written all over it!  About the video which accompany's the song, Richard Jones (  lead-singer/writer ) said………….
"The idea was based on a very simple premise of dark to light, growing up in the South Wales valleys, hope is a very strong theme. I funded, filmed and edited the video. Its based on the idea of nostalgia and hope for the brighter day mentioned in the lyrics".

We have too many great tracks here to write about and it's not my intention to bore you all with my constant drivel and waffle endlessly on. So I'll let you all know about a couple more then leave you to make up your own minds. Just make sure you go and get their CD though as it's a 'not to be missed ' debut album you will regret not having when these guy's have hit the big time, and they will! Having already just had their song 'Before The Matinee' played on TBFM Internet Radio, they have since been told that their latest single ' Your Summer Sun' will be BBC Radio Wales's record of the week from the 15th of July. Plus they have also been invited to do a ' live on air ' acoustic session in the studio. After a full year (2013) of gig dates the guy's are now lining up an even bigger 2014, check the their website for details.
[amazonmp3 asin="B00DVAVV8G"]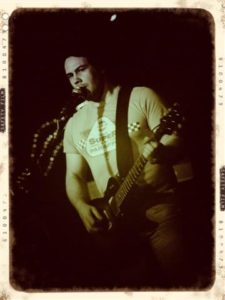 Right, here we go……
'Knock Away', again here we have I think a sympathetic sound that's a cross between Greenday and perhaps the influence's of several other great bands, old and not so old, but then put together in a unique and definitive way that all belongs to the guy's of FireRoad. Lots of guitar re-verb, a great drum beat, a song reminiscent of the old late 80's sound but brought right up to date for today's rock fans. Every track on the album has been a pleasure to listen to, and for only the second time this year i'm going to give this new piece of hard work a top five out of five. As a consequence it's also going into my list of top ten albums to buy this year. The last track on the album is an acoustic guitar solo by Richard called 'Rain Water'.
Group members,
Richard Jones Vocals/Guitar
Gavin Davies  Vocals/ Guitar
Tim Jones   Vocals/Bass
Matthew Whitney Vocals/Drums
Album Songs,
I Got Sound
Find A Way
Leave My Heart
Line Me Up
Before The Matinee
Never Wrong
Falling Down
Sundown
Swinging Back
Knock It Away
Rain Water
2013 Dates
December 26th Elliots Bar Aberdare, Hometown Show
FireRoad 2014 Tour Dates
January 24th Beaufort Theatre Ebbw Vale (support Pearl Handled Revolver). 
January 12th Bristol Fleece All-Dayer
More Dates are being confirmed on the band website.
https://www.facebook.com/FireroadRock