Having seen three out of the six bands on the Dirt Box Disco STP Christmas Show line-up, I was really looking forward to the 'sold out' gig at the Star and Garter, as I headed out for a 3pm start, on the last Sunday before Christmas 2013. The Star and Garter has become a popular venue for Punk/Rock gigs in Manchester. It's situated conveniently close to Piccadilly rail station, perhaps too close, as there's a possibility it may be demolished to make way for the HS2 high-speed rail link!
The opening act The Senton Bombs, a four piece from Blackpool, released their album Chapter Zero earlier this year and it was given a glowing review by PlanetMosh read it here. It was already fairly busy for an afternoon gig on a bleak, cold, Sunday in Manchester. Front man, and bass player, Joey Class welcomed everyone to the STP Christmas Show before opening with Medusa, a catchy song which rather than 'turning your ass to stone' got fists pumping and heads banging. So began the STP Christmas gig in great style! Scott was really giving the drums some stick and we got some great riffage with Damian entertaining us and playing the guitar behind his head, I could tell it was a Gibson (black but not a Flying V). Tornado was dedicated to one guy in the audience who, and I quote Joey, 'had managed to make it here just like one' with it's strong bass line causing the speakers at the side of the stage to shake along to the rhythm too! Luckily they were fastened down.
For Nothing Quite Like This, a really memorable song which includes the words 'Bombs Away' it was obvious that the band had brought some fans, as people were there with their bombs, ready to down in one!  No Rest for the Rocking, another catchy tune had members of the audience pogoing and the guys playing with their guitars pointing upwards in unison, although they did get a rest for a short time, when we got just the drum beat, before the guitars and rhythm were re-introduced. The last song was a cover of the Supersuckers Born With a Tail (which I like think was intended for me!). With Joey doing a few leg kicks then finishing off with a cry of 'Fingers in the air for punk. We Were The Senton Bombs'. That they are and as an opening Experiment they certainly were The Darkest Horse!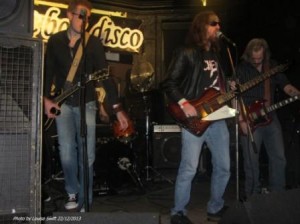 Set List
Medusa
Nine of Hearts
So Cavalier
Tornado
Nothing Quite Like This
Darkest Horse
No Rest For The Rockin'
Jackal
Experiment
Born With a Tail (Supersuckers cover)
Band Members
Joey Class – Vocals & Bass / Damien Kage – Guitar & Backing / Johnny Gibbons – Guitar & Backing /
Scott Mason – Drums
Links
https://www.facebook.com/thesentonbombs
http://thesentonbombs.webs.com/
http://www.twitter.com/thesentonbombs
http://www.amazon.co.uk/gp/product/B00GT8ZVSI/ref=dm_ws_sp_ps_dp?ie=UTF8&qid=1388254986&sr=8-5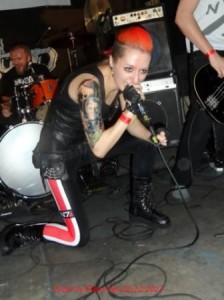 Next band up was billed to be The Healthy Junkies but they were delayed in traffic. Fortunately In Evil Hour, a female fronted four piece from Darlington, were already there and kindly swapped stage times. As soon as I saw Al, the singer, I realised I'd seen this band before at Anarchy in Buckley. With the fast strumming and drumming required In Evil Hour played good old punk hard and fast. Mike was drumming so hard the cymbal fell over, a quick recovery from Al was pointless, as it fell over again within seconds. It didn't detract from the performance though. What's one missing cymbal in the mayhem that is Punk? Al, although slim and petite has a powerful voice, singing at times in a death metal style growl. With her skintight pants and red hair she made the first striking front woman of three female fronted bands we got tonight, reminding me a little of the late Wendy O'Williams in terms of energy and sound and, of course, the great figure. At one point Al looked up and said she always felt at home here, as she used to have the same wallpaper on her bedroom ceiling at home. Perhaps The Star and Garter stage area used to be a bedroom, built in 1803 and moved brick by brick in 1849, it's a Grade II listed building and, at that time, certainly wasn't built as a punk rock venue. That pesky cymbal was still playing up, possibly due to a broken leg on the stand. Al showed some great emotion in her performance and the bass line certainly got the floor vibrating. Finishing off with a fast number in true punk style! Not quite an evil hour but around 40 mins of wicked music!
Band Members
Al – Vocals / Garr – Guitar / Gib – Bass / Mike – Drums
Facebook: https://www.facebook.com/InEvilHour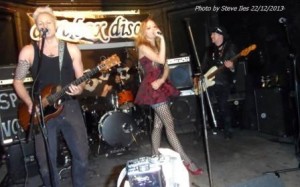 The second band on the billing The Healthy Junkies finally arrived with minutes to spare to go on third. They managed to  set up at great speed, good job they're healthy! The second female fronted band of the evening had come up from London and had been delayed by heavy traffic.  Parisian lead singer, Nina Courson, looked stunning in ripped tights and a short black and red brocade dress over denim shorts.  Nina thanked In Evil Hour for swapping places with them. Good job really because if they hadn't been ready and willing it would have been a wasted journey for the Healthy Junkies! First song Resistance with lots of ooh ooh oohs and the chorus 'Burning bridges, lighting up the sky' was a fiery opener with Nina smoldering.  If You Talk to Her had Nina crouching, Nina shaking and Nina singing with great feeling, an engaging front woman. Ladies man of the band (so I'm told) Dave Renegade was in a sparkly jacket and hat with sunglasses, not that it was particularly sunny at 5pm in Manchester in December.  Renegade stripped off his jacket, to a few whoops from both the women and, I reckon, a few of the men in the audience! Never Want it Again was a mellower song, then we got Danny Trash a song about a murderer who gets away with it, starting slowly with a great rhythm it's a very antisocial song, and I don't mean literally, I refer to the chorus line.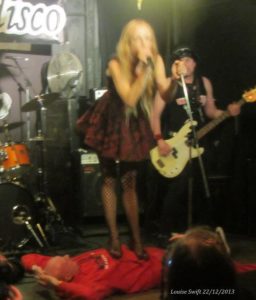 When Nina announced the song Witches of Lust two lunatic Renegade groupies ran to the front to throw skimpy knickers at him, put off his stroke for a minute he said 'that was almost planned!' No doubt the ladies in question made sure they were clean on that day! The penultimate song was a cover of Nancy Sinatra's These Boots are Made for Walkin'* and that pesky cymbal was malfunctioning again causing an over zealous audience member, (Alan) in a red boiler suit, to leap up to help. It was strongly suspected he had an ulterior motive as, after righting the cymbal, he laid prostrate whilst Nina walked all over him! Asked afterwards if it hurt he said 'Yes but I like a bit of pain as it heightens the senses' (I could do that for a fee!). By now the cymbal had, perhaps symbolically, also thrown itself prostate on the stage floor leaving Danny Fury with just one cymbal to clash. Phil Honey Jones and Dave Renegade pointed their instruments at Alan, on the floor, while Nina walked over him several times. I've since nicknamed him Alan the Human Doormat! We came to the last song Nice and Sleazy which had Nina kneeling down and was a 'nice and sleazy' ending to a good set from The Healthy Junkies. Nina thanked everyone for attending, bringing us to the end of the first half.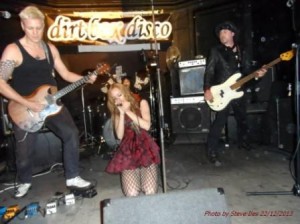 Set List
Copycat
Manifesto
Resistance
If You Talk To Her
Never Want It Again
Danny Trash
Witches of Lust
Boots*
Nice and Sleazy
Band Members
Phil Honey Jones – Guitar / Nina Courson – Vocals / Dave Renegade – Bass / Danny Fury – Drums Facebook: https://www.facebook.com/pages/Healthy-Junkies/128020360589230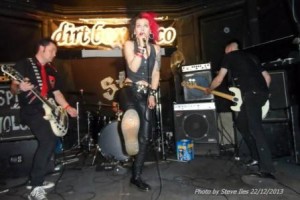 4 x 4 – well 4th band up were Loaded 44, the third (and last) female fronted band of the day and, the second band from the North East. Formed in 1996 these guys have been going for over fifteen years. Beki looking fabulous with her black crimped hair with a red flash and an enviable waist accentuated by a black belt with a massive silver heart and guns buckle. Dave and Steve both in Rockabilly style shirts with Nelly in a plain, black t-shirt but punk drumming is a sweaty business! I didn't manage to get hold of a set list but caught most of the song titles Generation Idiot a good fast song. Something for Nothing with a fast drum beat had Beki, pouting, sneering and curling her top lip. The mistress of Punk faces!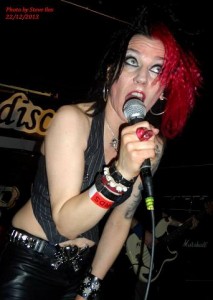 On their Facebook page Loaded 44 say they have been compared to Blondie meets The Ramones, which is a fair assessment. Entertaining from the outset, their set was packed with short fast songs, which is what punk it all about, we got Drop That Bomb a catchy tune with a great rhythm. Then went through a Breakdown, 10 Years and Radio, the latter with an intro reminiscent of The Damned's New Rose. We finally came to the last song It's Not About You which ended another good set. Now two thirds of the way through with only two bands to go. Things so far had been pretty good. Could they get better? Could they get any prettier?
Band Members
Beki – Vocals
Dave – Guitars/backing vocals
Steve – Bass/backing vocals
Nelly – Drums
Facebook: https://www.facebook.com/pages/LOADED-44/117191444960499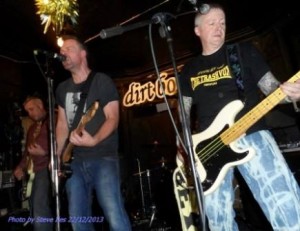 The penultimate band of the evening came in the form of the Vox Dolomites. An all male four-piece Punk band from Stockport. Living half way between Stockport and Manchester I should really know my local Punk bands but, although I recognised the name, I haven't seen these guys play live before. By this time I had retired to the adjoining bar, for a quick rest, before Dirt Box Disco but I still had a reasonable view of the stage. No fancy outfits from these guys. Their sound was very Ska Punk, think The Specials or Bad Manners.
Stockport isn't too far and it looked like The Vox Dolomites had brought some fans up the A6, who were dancing away at the front. A bit of beer was getting thrown, which I believe is more a sign that someone likes the music than a 'Get Off!' I don't think this is just a Stockport thing, and it was largely ignored because we're used to rain in Greater Manchester!
Band Members
Antony Walsh / Will Farley / Chris O'Donnell / Simon Dunnington
Facebook: https://www.facebook.com/thevoxdolomites
Website: http://www.thevoxdolomites.com/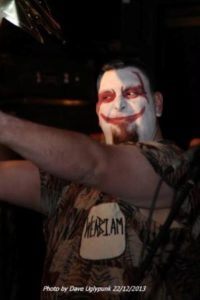 At last all the way from Burton on Trent came Dirt Box Disco (DBD), a band wearing more make-up than Kiss and some of the strangest stage attire ever to grace the stage. They made their way through the audience before they exploded onto the stage like a 'Volcanic Eruption' of colossal proportions, immediately filling it with their presence! DBD are definitely a sight to behold, Maff in green wig, Danny Fingers with his face painted blue and sporting an army helmet, Deadbeatz in a white wig and black furry hat, Weab.I.am with white Pan-Stik thick foundation, big red grin and even bigger red made up eyes; looking like some demented cross between the Joker (Batman) and a Carver (Nip/Tuck) victim and wearing an animal print boiler suit cum onesie.  Last but by no means least Spunk Volcano in his obligatory one eyed balaclava complete with Mohican! There were one or two copycat mohicanned balaclavas in the audience but none achieved the sheer awesomeness of the real Spunk! Alan (the human doormat) got up to give Spunk a Christmas present which turned out to be a Volcano Eruption set from Weird Science.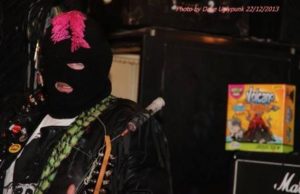 With Weab stating, and rightly so, 'This is what a sold out venue looks like – Cheers Manchester' DBD opened with The Other Side of the Street which immediately had everyone singing along and jumping up and down – just going mental really! Most of the audience were obviously big fans as they knew all the words to this (and most songs). The next song We're All Going Crazy was therefore, most appropriate as everyone was going crazy for DBD. What I love about DBD is that all their songs are short, fast, loud and in the main offensive! The band don't claim to have any technical merit but the songs are actually well written, although mainly tongue in cheek and they sound great, raw and energetically played. The nearest comparison is probably The Anti-Nowhere League. These guys just look like they are having fun. It's probably a good job they don't wear designer clothes (in the traditional sense of designer wear) as, over the course of their hour long set, a pint or two was thrown in their direction!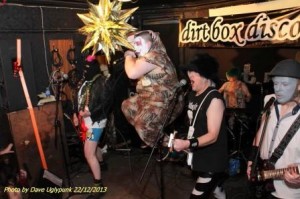 Spunk shouted those words any self respecting lady-boy would love to hear 'If you've got a cock and you've got a twat this one's for you' before they launched into I Just Wanna be a Girl, next came My Life is Shit which got everyone jumping. Calls were made for Let's Get Wasted and Weab replied 'It's coming! Shut the fuck up, we're not Abba' I doubt anyone would make that comparison, although on second thoughts Abba have worn some weird and wonderful outfits too, but perhaps never a hand knitted, one eyed balaclava with built in Mohawk! Weab then announced 'Bottom Shelf, Middle Shelf, Top Shelf. You won't find pictures of Spunk Volcano on the Top Shelf'  Why not? I didn't get the impression Spunk was the shy bashful type, I'd buy a top shelf mag for Spunk! Although when Spunk shouted 'Does anyone want to finger fuck me?' I didn't fight my way to the front to oblige, mainly because a bit of stage diving was going on, by this point, and I didn't fancy a boot in the ear! When Weab announced 'We can see you're getting tired, so we're going to play a nice slow song' I didn't believe that for a minute, I don't know of any slow DBD songs and Smackhead certainly isn't a slow ballad type number.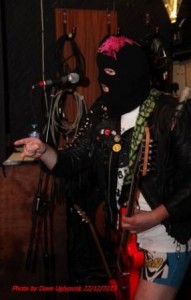 When Weab declared 'It's Sunday and Santa's nearly here' Spunk replied 'It's Sunday you don't want to miss F**king Country file' These two are like a great Punk comedy duo, move over Ant and Dec, Spunk and Weab are here! No DBD gig would be complete without Let's Get (Fucking) Wasted so when Weab stated there's only one thing to do Manchester  the audience went wild! Punks, old and young alike, were up on stage singing along with DBD before diving into the audience. With it's great riffage and tongue in cheek lyrics it's going to be a memorable Punk classic! After that we knew, like all good things, we were coming to the end. Weab said 'We've had one of the best year's of our life, and after tonight no-one would disagree that STP Records is the best record label on the planet' Based on tonight's show I certainly wasn't going to argue! We got a few lines from Boney M's Rivers of Babylon and Brown Girl in the Ring and Weab declared 'We weren't going to bother with an encore but we'll do it anyway' It was probably best to just go straight into it, because to leave the stage and wait to be called back would have been tricky, as it would have meant the band trying to wade through the adoring crowd. There's no side or backstage door here. The bands have to literally walk through the audience to get on and off stage. With a final comment 'So Thank you Manchester the last one. Thank you for making our dream come true' DBD burst into Dirt Box Day and half of the audience tried to get up on that stage to join in including one of the Spunk Volcano clones! Two Spunks and I wasn't seeing double!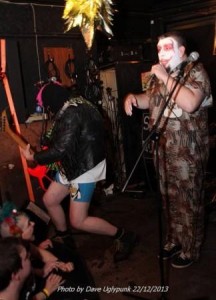 Set List:
The Other Side of the Street
We're All Going Crazy
Tragic Roundabout
Peepshow
C'mon Now
What You Going to do About it Now
I Just Wanna Be a Girl
My Life is Shit
My Girlfriend's, Best Friend's Sister
I am Rock n Roll
Top Shelf
Smackhead
Freaks
Yeah She's My Baby
I Don't Wanna Go Out With You
Let's Get Wasted
Dirt Box Day
Band Members
Weab.I.am – Vocals / Spunk Volcano – Guitar / Maff Fazzo  – Drums / Danny Fingers – Lead Guitar
Deadbeatz Chris – Bass Guitar
Facebook: https://www.facebook.com/pages/DIRT-BOX-DISCO/129060477115572
Website: http://www.dirtboxdisco.co.uk/
All in all a fantastic show. Six bands for £6. How often to get to see some fantastic live music for £1 a band! Less than the price of a pint. If you like punk then catch a STP line up at a venue near you in 2014!
https://www.facebook.com/pages/STP-Records/240547192647599
http://www.stprecords.co.uk/
A big thanks to Dave Uglypunk and Steve Iles who kindly let me use some of their photographs to illustrate this review.