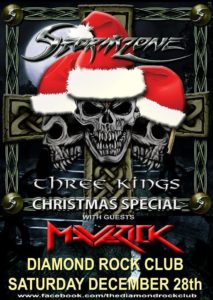 As we have been consistently documenting over the past 12 months, it's been a helluva year for the Norn Iron rock and metal scene – and especially for the two bands tasked with hosting this end-of-term party (Stormzone released their fourth, and most acclaimed and successful, album to date while Maverick ended the year by celebrating their signing to Massacre Records).  And what better place for such a hoedown than one of the best little venues in not just this part of the world but anywhere in the entire British Isles?
Young upstarts Maverick have been steadily building themselves a reputation for the sheer energy and enthusiasm of their live shows, and this is more than ably demonstrated as, taking to the DRCs's tiny stage like genuine rock stars, they immediately get throats screaming and fists pumping with the infectious riff of 'We Are Maverick' and the sleazy grind of 'Snakeskin Sinner' (the band's original name, trivia fans).  Frontman Davy Balfour is suffering from a slight dose of laryngitis, with minor problems showing themselves as early as 'Got It Bad':  but,  he battles on like a true professional as the band storm through an electric set, culminating in the impressive 'Last Addiction' (from their forthcoming major label debut album), the sweltering 'Shackled', which leads off with an understated guitar line from Ryan Balfour, and the boobtastic tongue-in-cheekiness of 'Top Heavy', as the young five piece bring the curtain down on their first full calendar year in action in fine style.
https://www.facebook.com/MaverickBelfastuk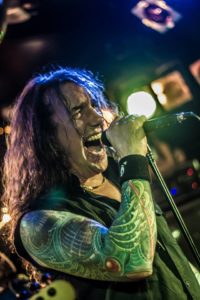 If Maverick are the new kids on the block who have made enormous strides in a very short period of time, Stormzone are very much the veterans of the Northern Ireland scene, having spent years practising and fine honing their craft to the level that they are now one of the most impressive and powerful live bands around – bar none.  And what they deliver tonight is further evidence, presented over the course of an hour and 45 minutes, that they are truly a band at the very top of their game, masters of their craft – that craft being good old-fashioned old-school heavy metal played with a fire its belly and a hunger in its heart, and with sheer enjoyment (as evidenced by Davy Bates' ear to ear grin throughout the evening).
Very much among friends, the five piece – led by rabble-rousing frontman Harv – perform another powerhouse set, combining the best elements of their aforementioned 'Three Kings' album – one of the highlights being the towering 'The Pass Loning', a song which features one of the best drum intros EVER – and classics from their back catalogue, from the heart-pumping opening chords of 'Where We Belong', the venue-levelling pomposity of 'Immortals' through the majestic 'Memory Never Dies' to the brooding 'Beware In Time'  and the stunning fist-pumping anthemic finale that is 'The Legend Carries On'.  Another highlight is the first ever live performance of the hauntingly bombastic 'Coming Home', a track released only in the US market but which has attracted huge interest back home, and no doubt very soon will be a set favourite on both sides of the Atlantic.
https://www.facebook.com/stormzoneuk
All in all, this fantastic double header, featuring two bands at different ends of the musical spectrum, in terms of experience at least, was a vibrant and hugely entertaining snapshot of a moment in time here on the NI scene – a scene which has all the energy, vibrancy and entertainment value (and much more) of this exemplary gig… Farewell 2013, with all you have given us:  welcome 2014, with all you have to offer.
Maverick play 'Highway To Hell' (with Screaming Eagles, Sinocence and Baleful Creed) at Limelight 2, Belfast, on Saturday February 1:  https://www.facebook.com/events/240946362737220/
Live photograph of Harv by Paul Wharton.