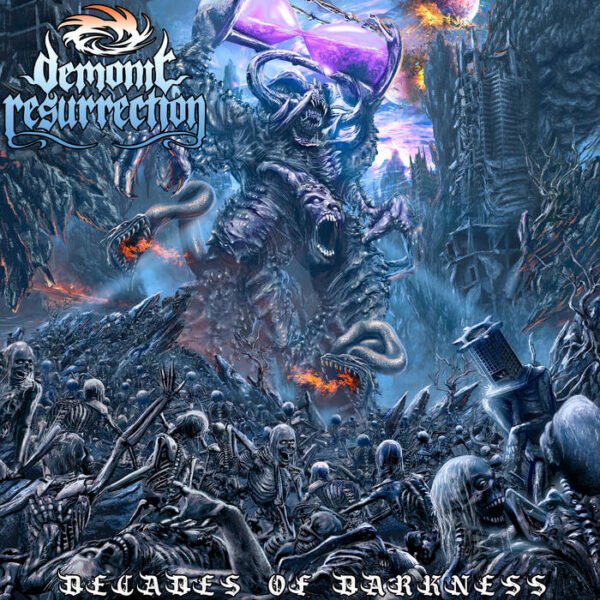 Mumbai, India metal returns courtesy of the most metal Sahil 'Demonstealer' Makhija the driving force behind the wheel of Demonic Resurrection with their sixth studio album Decades Of Darkness as it celebrates two decades of the band. The album consists of four single releases and four instrumental versions of the same songs.
It crashes in with opener 'The Eye Of Eternity' as the first listen was all about the ridiculously snare and kick drum assaults. Second play was to appreciate the swathes of symphonic grandeur that wash over the unrelenting barrages of razor sharp riffing and lung busting vocals rise from the very depths of hell.
A cataclysmic opening of guttural vocals spew their venom throughout 'Non Serviam' for some truly devastating death metal as kick drums reach new levels of damage. A midway guitar solo follows a haunting melodic vocal as it soars towards a jaw dropping outro.
'The Mask' is an adrenaline rush of sweeping guitar lines that add colour to the mental metal mayhem that rages around it. Vocals are spat out with an evil cackle as a kick drum driven midsection includes finger bleeding solos and the insane riffing is like being caught in the eye of a hurricane!
Final track of the four singles 'Necromancer' is my standout track as from the off it shrouds you in a cloak of doom metal that suffocates due to its bleakness that it regurgitates on a glorious pound.
First track of the instrumentals 'The Eye Of Eternity' is almost like a film score but like a film about armageddon as it could surely bring to life The Four Horsemen Of The Apocalypse to herald our worthless demise. Imagine 'Thieves' by Ministry but with skull crushing vigour.
Keyboards seem more prominent throughout 'Non Serviam' as they manage to make themselves heard above the pit opening thrash metal unfurling around them as it veers towards a lightspeed outro.
'The Mask' buzzes and stings like a swarm of angry bees for a breathtaking three minutes of riffing that defy belief, such is their wrecking ball power.
Final instrumental track 'Necromancer' is a completely different animal without lyrics as it ignites fast and furious on unsurpassable ferocity levels that are without peer.
My first impression of meeting Sahil was at Bloodstock in 2018 and this is how I portrayed him in my review that day. "From Clark Kent to Superman summed up Sahil Makhija perfectly as the softly spoken bespectacled man we spoke to onsite earlier on in the day transformed into 'Demonstealer' fronting Demonic Resurrection on the rammed full Sophie Lancaster Stage".
Purchase links to the album and other band info are here :- http://demonicresurrection.bandcamp.com I https://www.facebook.com/DemonicResurrection Ihttps://www.youtube.com/results?search_query=demonic+resurrection+ I https://www.instagram.com/demonicresurrection/?fbclid= I https://linktr.ee/demonicresurrection
Decades Of Darkness album track listing :-
The Eye Of Eternity.
Non Serviam.
The Mask.
Necromancer.
The Eye Of Eternity (Instrumental).
Non Serviam (Instrumental).
The Mask (Instrumental).
Necromancer (Instrumental).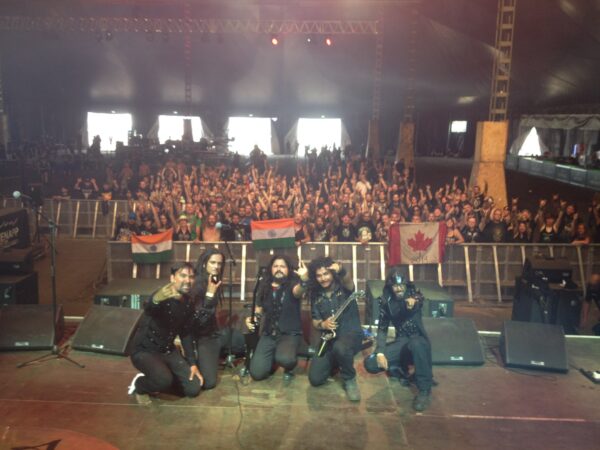 Sahil Makhija turns the clock back twenty years for the release of Two Decades Of Darkness, new album by Demonic Resurrection.