Canadian Sludgers Cruickshank hit us with their debut self-titled album, and it's a strangely clever one. There's a mixture here of Sludge and doom riffs, and expect the unexpected when it comes to drumming, demonstrated perfectly in album opener 'Clouded '. Sporadic surges of speed litter this track but it knits and holds the track together quite nicely.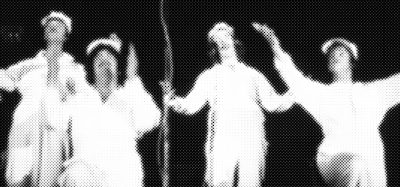 'Coma Blue ' is giving me some concerns regarding the album's mixing. I was hoping it was just the opening track but unfortunately not. Whilst the music retains the dirty live sound that I love so much on recorded work, Graham Christian's vocals are sometimes barely audible. Is it my version? I don't know. But in regards to the tracks themselves, there is plenty of promise here. Plenty to make me believe that (put on the right path) this band could be a big attraction on the Sludge circuit. 'Hard Damage ' a perfect example of this. Heavy as you like but maintaining speed when required.
Musically tight, this album doesn't seem to have any stand out tracks that I want to go back and play again, but played together, each song gels and ebbs nicely into each other.
'Alexandria ' starts with a brilliant slow galloping beat which increases in tempo perfectly, and raises itself above all other tracks in cementing itself as a floor filler and mosh pit former. 'Soviet Reunion ' is a 1 minute interlude which to me would have worked better at the end of the album and not two tracks before. Overall, there is lots of promise here for Cruickshank. A very commendable self-released debut.
Track-List:
1 – Clouded   2 – Coma Blue   3 – Hard Damage   4 – To Swine   5 – Alexandria   6 – Nothing Survives
7 – Soviet Reunion   8 – Clean   9 – Real Heavy Thing
Line-up:
Graham Christian – Vocals   /   Marc Bourgon – Guitar   /   Scott Miller – Bass   /   Mark McGee – Drums
Links:
Release date: 16/08/19. Running length: 32mins 01secs. Promising debut from a promising band.