Rising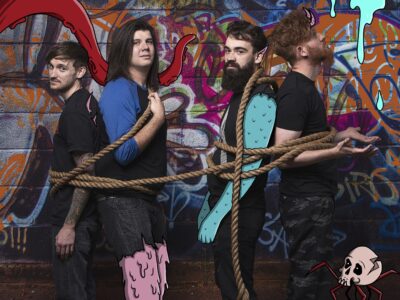 alt-metallers CROSTPATHS step up even further with the release of their brand-new EP, Mutated, out Friday 27th November. The nu-metalcorers have also just released a new single and video, Defiant, out now. Watch the video for the track, here – https://youtu.be/DsqzJ6CH4CM .
Coming at you from Kent and formed at the back end of 2018, CROSTPATHS made an early name for themselves with the release of last year's self-titled debut EP. Cuts from the record generated radio airplay via Total Rock and Hard Rock Radio and grass roots support flowed in from many quarters. Pulling from Papa Roach, Fever 333, and Linkin Park, CROSTPATHS have managed to shrewdly carve a fresh imprint on the nu-metalcore genre.
Featuring Ritchie Murray Jack (Lead Vox), Owain Lewis (Bass/Vox), Michael Edwards (Lead Guitars), and James Mason (Drums/Percussion), the newcomers have recently signed to Enso Music Management  and have collaborated with local artists including Dohny Jep, WeatherView and apatternimperfect to produce remixes of their self-titled EP. Recently, the band's focus has firmly shifted to their thunderous new EP, Mutated. The record is a burly slice of alternative metal infused with killer breakdowns, colossal riffs, unbridled energy, and a glut of hooks. Lead Vocalist, Ritchie Murray Jack remarks: "We wrote this high-octane material in late 2019 with the intention of a spring release to coincide with touring. Best laid plans eh? Sonically, it's all action, but lyrically the songs reflect a rollercoaster of emotions that many will be familiar with (especially now): anger, sorrow and stubborn defiance."
CROSTPATHS have further releases on the horizon and will tour the EP as soon as the world allows. Tap into their socials for constant updates.

https://www.youtube.com/channel/UCu8zEymgsw2XzmNroFgJtggs
https://www.facebook.com/crostpaths | https://twitter.com/crostpaths https://open.spotify.com/artist/1UyQ9Us7cR1QggBbIcxxso | https://www.instagram.com/crostpaths/