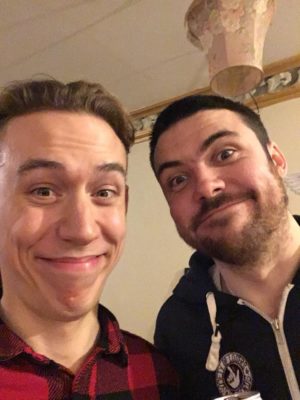 Crapsons are a punk rock duo from Wirral. Well known for their on-stage energy, they cross over heavy, distorted punk riffs with comical, tongue-in-cheek lyrics, singing about every day pressing topics from death, sheds and biscuits. So after the success of their first single 'You don't Know When You're Going To Die', the guys have decided to give us another taster of what they are all about by releasing this short but very sharp EP.
Although I've never met Mikey in person, we've spoken through social media on a number of occasions. My previous band (Soundstate), were due to play with Crapsons in Rhyl, N.Wales last year, but unfortunately we had to pull out due to losing our drummer. So I've been looking for an opportunity to review these guys both musically and live for some time.
'Deaths & Spelling Mistakes' takes no prisoners. I first heard opening track 'Kings Of The Council Estate' on Neil Crud's Tudno FM show back in April 2018 as a live session, ironically the week after Soundstate had done their session show, and fell in love with it straight away. Based on typical council estate life with a hint of Crapsons irony, this is probably my favourite Crapsons track to date as it shows us that the fun element of punk rock is still here in all it's glory.
'Scallies' touches on gangs of youths hanging around the streets and the fear that they can instil into people simply by their sheer numbers. 'No Festival Today', with it's awesome bass riff, is an attack on Festival Organisers. I think judging by the lyrics in this song that someone has been upset somewhere along the line, and what better to way to vent your anger than through the power of music!!
As 'Jee Wizz' hits us, it's becoming quite obvious that, anyone who listens to Crapsons will instantly connect with all of the lyrics in each of their songs. This is because they all relate to everyday life and events, things we all have, and will go through. This is what makes them so popular. 'Hide & Seek' completes this brilliant EP, with such a clever start to the song by counting to ten.
As these guys are only a two piece band, my mind does quite often wander to try and imagine what they would sound like with a guitar and a full drum kit. That would be nice. But Crapsons are Crapsons and this is what makes them unique. A cracking EP.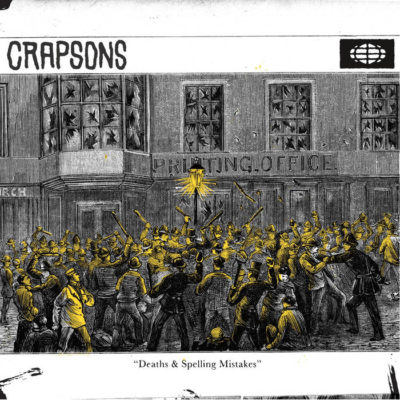 Track Listing:
1 – Kings Of The Council Estate
2 – Scallies
3 – No Festival Today
4 – Jee Wizz
5 – Hide & Seek
Line-up:
Mike Markey – Bass / Vocals
Andy Gilbert – Drums / Vocals
Links:
A brilliant EP for fans of Punk / Rock with a slap of comedy added for good measure.