There are many things to do just before the holiday season starts. My "to-do" list started with the Combichrist show in The Classic Grand on 22nd December. Although when I got there I realised I wasn't the only one with the same idea. It was only a few m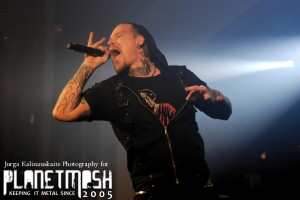 inutes past seven there was a queue into the club.
The concert started at precisely ten minutes to eight, as promised. First up were Glaswegians Roman Nose. Not an usual name for electro band. These guys looked quite ambitious and interesting to watch at the same time. Three guys, one of them playing live drums in triangle white net, separated from the other guys. On the net, artistic visualizations were projected making the drummer look a little mystical. The mystical air was enhanced by the masks that all three members had on their faces. The trio played for half an hour, warming up with quite simple, although danceable music, welcoming the next band on the stage.
The second group on the main stage were Surgyn. Very well known for local audience guys from Dundee, they were quite different from from both first and headlining band. A promising alternative electro band with two different vocalists. Punchy beats and harsh vocal in one song and melodic voice in another. You can dance on the dancefloor, watch them or admire their appearance on the stage. High heels, skinny trousers, satin white shirt and black tie fluttering – there is something in this combination, that catches the eye of the photographer. As their name implies, this is Veil and next to him in dark suit – Sovereign. The guys were very active and friendly, perfectly setting the right mood for upcoming Combichrist show. Just before the end of their set they had some technical difficulties as the laptop, which had been serving them for four tours, seemed to fail. After having short break, band was again on the stage with three final songs, bows and "bye-byes".
Combichrist showed up on the stage after very short break and delivered an old school electro show, as was promised in the show advertisements. Andy LaPlegua and Joe Letz stood next to each other with synths and laptop on the same table, smiling, drinking and making music. Well, that was only in the beginning of an enjoyable evening. After a long instrumental intro, Andy was on his feet in front of the stage, jumping, running and engaging the audience. It started with "Are You Connected?" and continued, as Andy said: "from past to further past". There were such gems from the earlier Combichrist studio albums (starting with "The Joy of Gunz" and "Everybody Hates You" albums) as "Let your body beat", "Electrohead", "God wrapped in plastic", "Blut royal", "Feed your anger" enthralled the crowd. The duo played for hour and a half , coming back for the encore of two songs. Combichrist were having fun themselves, communicating with fans and promising to come back already next year! Most likely to promote their new album, which is due in March, 2014. Combichrist brought the electro-mayhem to Glasgow, and Glasgow was well and truly shaken.
All photos by Jurga Kalinauskaitė
Links: