Glasgow metal warriors Bleed From Within are ready to crush you with new album "Shrine"
Straddling the line between Groove metal and Metalcore, Bleed From Within is one of those bands who consistently released better albums. "Shrine" is their sixth full-length release, and it is superb!
First off, I had to check I had chosen the correct album to play, as the intro to "I am Damnation" has pretty much the same synth chord to begin as Ministry's "Twitch". After a couple more seconds though I was satisfied I had picked the right one after all, and after 56 seconds of the melodic and quite pleasant intro – WALLOP!! The riff is huge, full of groove and one of the best opening riffs I've heard since Machine Head's "Imperium". In fact, from the off Machine Head are a damned fine comparison to these guys. One of the finest opening tracks I have heard in a good while!
"Sovereign" has a more thrashy feel to it, and has a proper gallop to it It ramps up about two thirds of the way through, then we get a cracking guitar solo before the song continues onwards like a Panzer Mk.IV tank at the Battle of Kursk..
Deceptive intro…
Much like the opener, "Levitate" starts off with a quiet almost angelic intro, that deceives one into thinking that a much softer track is heading your way. Nope, prepare to have your ears smashed into your skull with a harsh and fast hardcore type riff, before loads of melody kicks in among the fury. There is around 30 seconds of peaceful clean sung vocals over a violin melody (yes) to give you a respite before next track "Flesh And Stone" kicks in.
Again, this is another track that makes you think its going to go one direction, before sneaking around your back and smacking you with a very large and heavy skillet. Starting with an almost Dimmu Borgir type intro, Bleed Within then let the greyhound out of the trap after the rabbit. Except the greyhound is rabid…. 4 tracks in, and I'm already adding this to my album of the year shortlist..
"Invisible Enemy" is much more in the metalcore style, but is packed with brutal melody, interesting time changes, and a groove as big as the one on Kim Kardashian's backside…. We do get a beatdown type part about 3 quarters the way through, but its done so well, its does not jar with the rest of the song. Relentless stuff!!
Time for a wee respite with short and atmospheric instrumental track "Skye". This is 55 seconds of musical beauty, much akin to the Scottish Isle it takes its name from.
Now, brace yourselves…
You know that after that, the next track is going to be an absolute stormer, and you would not be wrong. "Stand Down" is all fury from the first note. A pummeling beat and groovy riff drag you along making sure you hit every big rock with your head and ears. Again, I can't help but feel how much this is in line with modern era Machine Head – and I do love me some MH! I'm not allowed to headbang, and it took all my willpower to not do so listening to this track!
You've still got another FIVE, yes FIVE tracks to go yet as well…
Now this next one starts of somewhat slower, and builds into a most satisfying chug. Not quite what I was expecting from a ditty entitled "Death Defined". One for the fans of Devildriver this one! The change in pace adds more impact to it as well, making it most enjoyable.
HOLY EFFING MOTHER OF MARY!!!!
Where did my ears go?! "Shapeshifter" just about leaves you with some skin on your body. This is a full bore raging track of great thrashy riffs and scathing vocals. It's as heavy as hell too, yet does not compromise on a good tune for the chorus parts. An absolute ripsnorter of a track – live this should see plenty of broken bones in the subsequent mosh pit/wall of death!
"Temple of Lunacy" is another that starts off with a hint of symphonic metal, before this too decides it is a Great White Shark that has an insatiable need for human flesh… This again is a track with superb tune and melody to it, and still maintains the high energy and fury of the rest of the album.
Now what would you expect from a song called "Killing Time"? Well, once again these Scots throw a curve ball. I was expecting something similar to Shapeshifter – hard, fast, angry. It is actually a much more measured attack. Melody plays a huge part on this one, full of earworms and other good stuff I really liked it!
Onwards to "Paradise"…
Unfortunately, this album does have to end, and the twelfth and final track "Paradise" brings it to a close. Starting off with an eerie piano intro, you can sense that something grandiose is building up. A hoarse half whispered vocal gets the anticipation building, until it peaks into the harsh bellow we have heard throughout. But then we get a clean choral part to the chorus, along with definite symphonic elements. I'm not talking the overblown stuff. This is subtle, yet adds great depth to the track.
And that is your lot… And what a lot it has been. From beginning to end, this is a powerful, mature, varied and consistent release. I can not find a single fault with it whatsoever, I'm that impressed! There are a lot of bands out there that are mediocre, yet get all the plaudits, whilst bands like Bleed From Within are not given the recognition they deserve. If this album does not see them get the exposure it deserves, then the music industry is flawed, and fans are happy to be spoon-fed the mainstream dross.
Final words
I was not just giving hyperbole when I said earlier that this could well be on my shortlist for album of the year. I can now say it IS. Truly a work of great talent and passion. This is an album that you should go out and buy in its physical form. By far the best album I have reviewed so far this year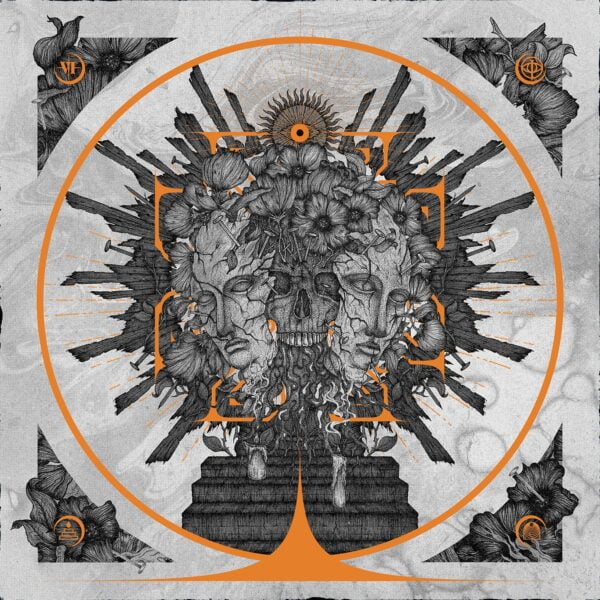 Track Listing
01 – I Am Damnation
02 – Sovereign
03 – Levitate
04 – Flesh And Stone
05 – Invisible Enemy
06 – Skye
07 – Stand Down
08 – Death Defined
09 – Shapeshifter
10 – Temple Of Lunacy
11 – Killing Time
12 – Paradise
Links
I was not just giving hyperbole when I said earlier that this could well be on my shortlist for album of the year. I can now say it IS. Truly a work of great talent and passion. This is an album that you should go out and buy in its physical form. By far the best album I have reviewed so far this year!
CD £15, Vinyl (Orange!) £30

editor rating