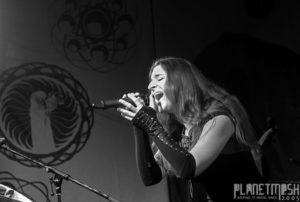 Tonight was Cellar Darling's first London headline show, having previously only been here supporting Delain. The venue was a lot busier than I'd expected – if not sold out, it was certainly close to sold out, which is good news for a band with only one album and which only formed around 18 months ago.
First up tonight was Diamond Black, the rock band formed by Sisters of Mercy guitarist Ben Christo. Frontman J.I. Turunen has a good powerful voice and does a good job fronting the band. They're not a particularly good fit with Cellar Darling (then again since the Hurdy Gurdy is such a rare instrument then very few bands are a great fit to support them), and they struggle to win over Cellar Darling's crowd. A good set from a band that certainly shows plenty of promise.
Next it was time for Cellar Darling. Formed when three members of Eluveitie left the band, it's fronted by Anna Murphy on vocals and Hurdy Gurdy – a fiendishly complicated looking instrument that looks like some instrument makers got drunk and decided to try and combine a violin and a keyboard then added a complication by making you play it by turning a handle. It's a bizarre instrument that you'll rarely see played anywhere, let alone in a rock or metal band. It does however have a distinctive sound when played by a talented musician(such as Anna Murphy) which helps Eluveitie and now Cellar Darling stand out from the crowd.
From the start, the band seem amazed by the turn-out with Anna Murphy hardly able to stop smiling during the set and she sounds quite overwhelmed as she thanks the crowd several times for coming to see them. They don't seem nervous though and put in a great performance. Songs such as "Avalanche" go down particularly well in a set that is easily described as "the first album in its entirety" – hardly a surprise though as with just one album released and writing only recently started for a second album then there's a limited amount of material to play. There was one surprise in the set though – a Queen cover. They did a cover of "The prophet's song" as a bonus track on the album but I wasn't expecting to hear it live. Happily it sounds just as good as on the album.
Cellar Darling may be a fairly new band, but judging by their superb set tonight, they're a band we're going to be hearing a lot more from in the future – and I'm expecting them to be playing bigger venues on their next UK tour.