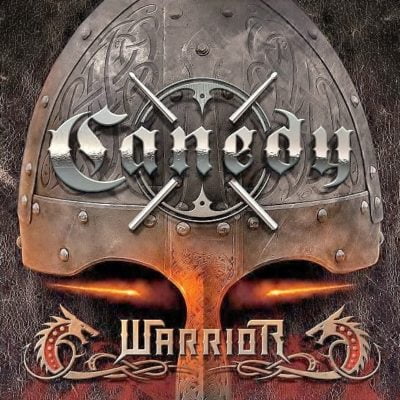 Carl Canedy is probably best known for being the drummer of The Rods but things are about to change as he releases his solo album Warrior with his side band Canedy, available now digitally and on streaming platforms with CD and vinyl formats available in August on Sleazy Rider Records.
He's assembled a formidable four piece band who kick out the jams as album opener 'Do It Now' sees a total drum overload intro ease into a steady grinding main riff. Body blow dynamics in the verses lead to kick drum brutality in the choruses as melody comes from the sumptuous vocals of Mike Santarsiero.
'Not Even Love' is melodies with muscle and a vocal tour de force over earworm guitar lines. Snappy snare work and a laid back midsection picks up pace for a kick drum driven outro. 'Lies' is a full on slammer. This take no prisoners headbanger surges along on another powerful drum assault. 'Hellride' sees bass player Tony Garuba deliver lead vocals and cello for the sombre intro, followed by guitar laden heavy metal.
'Warrior' befits its title by being a call to arms statement of battle metal. The grooves beat like a heart on fire, strengthened by a wailing guitar outro. Thor hammer blow dynamics make 'Third Times A Charm' crush as Mike hits some lung busting notes. 'In This Sign' is my album highlight. It has everything a metal fan needs. Moods change from heavy balladry to multi tempo metal as Mike commands with a consummate performance. If they were out for blood during 'Out For Blood', they got it from this turbocharger as it rattles along on some fist clenching riffing and a gnarly vocal.
The power is put into the power ballad 'The Prize'. It covers all bases as jabbing guitar lines and bass guitar prowess take a step back for the rich and soulful lead vocal. 'Attia' is an adrenaline rush album closer as a sugar sweet vocal is backed by the heaviest bass guitar lines, virtuoso guitar work and a seismic pummel from Carl.
Warrior album track listing :-
Do It Now.
Not Even Love.
Lies.
Hellride.
Warrior.
Third Times A Charm.
In This Sign.
Out For Blood.
The Prize.
Attia.
Canedy band line up :-
Carl Canedy – Drums.
Mike Santarsiero – Lead vocals.
Tony Garuba – Bass guitar.
Charlie Russello – Guitar/synth.
Ten molten metal monsters.