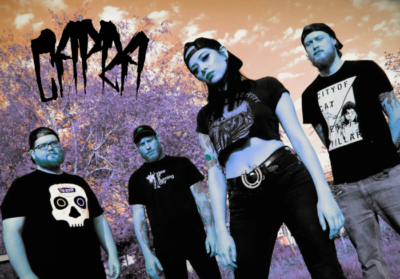 Violent fun with a vital message – a succinct summary of fresh faces Capra from Lafayette, southern Louisiana. With only two releases under their belt, they've already made waves in their immediate surroundings, and it's clear why. Their metallic hardcore twist is infectious, bursting with creativity and vigor as though they are still riding the high of having already played with Today is the Day, Eyehategod and The Number Twelve Looks Like You.
This second release, self-titled, has two new songs to dig into, and they are impossible to wear out. "Torture Ship" goes straight for the jugular within the opening seconds, with ferocious and hyperactive riffing. The guitars and bass sound like an avalanche – the kind that Every Time I Die thrive on – and the drums punch relentlessly à la classic Converge. They also draw from the fury of the immediate previous generation of hardcore bands, such as Oathbreaker and Gouge Away – taking from very different styles and molding the results into their own unique blend.
The newest weapon to the arsenal can be heard in Crow Lotus's ferocious vocals. Her lyrics brim with relatable aphorisms, both inspirational and introspective: "Don't be like the others, don't die before the grave" is just one example. She delivers her words with such conviction that you feel the vocal chords stretching, as she screams her frustrations regarding drug abuse and domestic violence on "Paper Tongues". These topics are close to the band's heart – they frequently play benefit shows in aid of charity, proving that hardcore still has a sense of community and helping each other.
'Capra; is six-and-a-half minutes of unstoppable force, and the band are on pure fire right now. This ought to whet your appetites, if fun-loving metallic hardcore is up your street.
Stunning stuff indeed.
Line-up:
Crow Lotus – Vocals / Tyler Harper – Guitar / Jeremy Randazzo – Drums / Ben Paramore – Bass
Tracklsiting:
1. Torture Ship 2. Paper Tongues
Links:
Release date: 22/05/20. Running length: 6mins 50secs. Stunning Two-Tracker this. Must be heard.