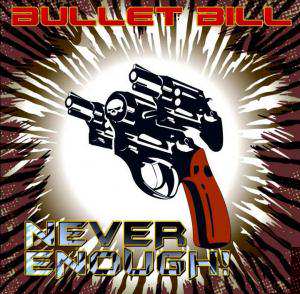 Bullet bill are a London based band who have played gigs in many pubs and small venues around the capital.  They started to record their debut album in late 2011, but it was over a year later before recording was complete and the album was mixed and mastered.  The album was released witha  gig at The Unicorn pub at the beginning of October 2013.
The album gets off to a good start with the guitar riffs at the start of opening track "Another dimension", but I'm not quite convinced by the vocals – they just sound flat and too low in the mix.  Listening to them I don't think it's the singer that's at fault as he sounds good, but rather it seems to be a production issue, and sadly it's one that's present throughout the album.
Ignoring the fact that the vocals just don't feel right, this is a great album – lots of great guitar riffs drive these rock songs forward at a good fast pace.  The songs are all nice and heavy and in most cases keep up a fairly fast pace.
"One way ticket" is a slower song, but it's still good and heavy thanks to those chunky guitar riffs and a nice guitar solo.  The vocals are more laid back – it's not a ballad but falls somewhere between a ballad and a hard rock song in terms of pace.  It's the only slow song on the album and serves as a nice change of pace before the pace and heaviness are ramped up again with "Breakout".
A great album that's well worth listening to.  I certainly hope to catch the band at a live show sometime in 2014 as if they're as good live as they are on the album then they'll definitely be worth seeing.
Track listing:
1. Another dimension
2. B.O.M.
3. Letter from Wanda
4. Jenny with the devil
5. One way ticket
6. Breakout
7. Home
8. Stereophonic gun
9. Set me free
[amazonmp3 asin="B00FO161NA"]