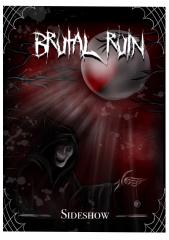 Stoke On Trent based bruisers Brutal Ruin bring some yuletide brutality courtesy of their latest single 'Sideshow'. In just under four minutes they conjure up a feast by channeling the early rawness of Venom, the industrial grind of Godflesh and pummel along on some devilishly hellish grooves, all pinned down by a truly lung busting lead vocal.
They are a new band to me and I look forward to future releases.
Band links are here :- https://www.facebook.com/brutalruin I https://open.spotify.com/artist/5P39lvwCOUoyahxONglmWW?si=-T6eWOMeRRi9RPExV0aggA&dl_branch=1 I https://www.instagram.com/brutalruinmusic/?hl=en I https://www.youtube.com/channel/UCSw2ve2dZAvrmfQUTM1q1Ug I https://soundcloud.com/brutalruin
Brutal Ruin band line up :-
Phil Sawyer – Drums.
Ollie King-Britton – Bass Guitar/Vocals.
Mart Woodvine – Guitar/Lead Vocals.
Brutal Ruin prove they are no sideshow, but a bill topping act with their latest single 'Sideshow'.