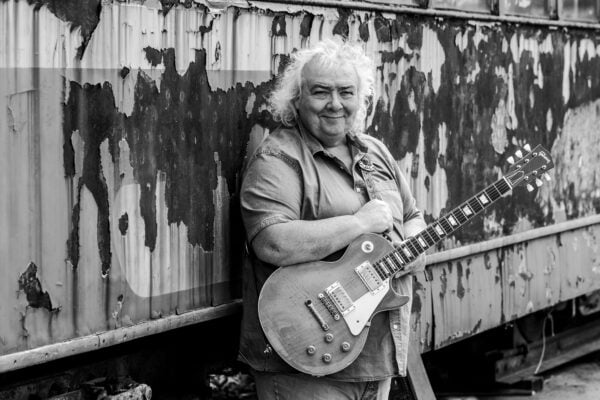 At the end of July 2021, Bernie Marsden released an album of blues covers called Kings that introduced me to songs from Freddie, Albert and B.B King as part of the 'Inspiration Series' that came after a backstage conversation with Billy Gibbons about their influences and heroes. It came out via Conquest Music and Bernie Marsden's Little House Music, receiving rave reviews and reached #1 on the Amazon blues chart.
So fast forward to November 2021 as Bernie releases Chess, part two of the 'Inspiration Series'. The album is so called as it includes artists from the famous Chess label featuring twelve songs, ten of which are covers and two instrumental originals from Bernie.
'Just Your Fool' is a raucous rock and roller opener of hard hitting riffs but the spotlight is stolen by howling harmonica that lights the fuse for an incendiary guitar outro solo from Bernie that Buddy Johnson would be proud of
'Back In The USA', the Chuck Berry classic has driving grooves that surpass the speed limit with ease. Guitar overload is the order of the day, big fat riffs are guaranteed dance floor fillers and Bernie spookily sings like Ian Gillan.
The quirky 'Grits Ain't Groceries' by Little Milton has choruses of "Grits ain't groceries, eggs ain't poultry and Mona Lisa was a man". It drips with Detroit soul and the dynamics take no prisoners as they stomp around swirling keyboards and jazzy chords.
'I'm Ready' by Muddy Waters is a finger clicking, toe tapping shuffle that had me smiling from the start with a stop/start vocal and rasping harmonica.
Bo Diddley is represented by 'You Can't Judge A Book', a rollicking rockabilly rebel that's a feisty feel good party starter of humorous lyrics and ear rattling drum patterns.
'I Can't Hold On' by Elmore James has razor sharp riffs and sultry slide guitar work that go head to head with manic harmonica for some boisterous blues. Marching rhythms head towards the down and dirty outro guitar solo.
Things come to a calm as 'Won't Be Hanging Around' by Albert King' is a bitter sweet paen of love lost and precisely picked guitar notes add to the sadness.
Another quirky number comes via 'Fattening Frogs For Snakes' by Sonny Boy Williamson as jazzy guitar lines add a smooth groove for harmonica that sounds like the whistle of a steam train rolling down the tracks.
Bernie lays down the agony as thick as molasses for 'That's Alright' by Jimmy Rogers. The lyrics are torn out like pages from a book, backed by luscious blues soundscapes.
A languid croon sets the tone for 'Who's Been Talking' by Howlin Wolf. It's a real tearjerker as snappy snare work pins down the rhythm section and a guitar solo is a thing of beauty as the song ends on a keyboard swirl and guitar feedback.
This enthralling album ends on two instrumentals written by Bernie. The bubbling grooves of 'Lester' uplifts it as Bernie lets rip with a joyous masterclass of guitar and wang dang hear that guitar twang throughout 'Johnny' as Bernie conjures up some summary vibes before Xmas for the most upbeat song here.
Fans will be pleased to hear that plans for the third installment of Inspirations have already begun for 2022!
Links to Bernie Marsden are here :- https://www.facebook.com/berniemarsdenofficial I https://twitter.com/Bernie_Marsden I https://www.instagram.com/berniemarsden/ I https://www.youtube.com/results?search_query=BERNIE+marsden++ I https://amazon.co.uk/Chess-Bernie-Marsden/dp/B09JM9F947/?tag=plane09-21
Chess album personnel :-
Bernie Marsden – Vocals/Guitar.
John Gordon – Bass Guitar.
Jim Russell – Drums.
Bob Haddrell – Keyboards.
Alan Glen – Harmonica.
Chess album track listing :-
Just Your Fool (Buddy Johnson cover).
Back In The USA (Chuck Berry cover).
Grits Ain't Groceries (Little Milton cover).
I'm Ready (Muddy Waters cover).
You Can't Judge A Book (Bo Diddley cover).
I Can't Hold On (Elmore James cover).
Won't Be Hanging Around (Albert King cover).
Fattening Frogs For Snakes (Sonny Boy Williamson cover).
That's Alright (Jimmy Rogers cover).
Who's Been Talking (Howlin Wolf cover).
Lester.
Johnny.
Bernie Marsden has certainly made the right move with his latest album Chess.