Uriah Heep's first two albums '…Very 'Eavy …Very 'Umble' and 'Salisbury' released as limited edition vinyl picture discs on 28th January
On 28th January 2022, BMG proudly release Uriah Heep's first two albums as limited edition vinyl picture discs. These beautifully presented albums begin a series of collector picture disc releases from the Uriah Heep catalogue. The artwork for each picture disc has been meticulously worked on, retouching the original art and creating a true visual feast.

Originally released in 1970 Uriah Heep's pioneering debut album '…Very 'Eavy …Very 'Umble' features their first-ever single, the classic 'Gypsy', written by Mick Box and David Byron. While the striking artwork features original frontman David Byron on the front, almost unrecognisable beneath cobwebs.
In 1971 Uriah Heep released their second album 'Salisbury', which contains the hits 'High Priestess' and 'Lady In Black' with the 16-minute title track, featuring a 24-piece orchestra and is the first album to feature the songwriting of Ken Hensley.

Both albums contain the original audio recorded in Landsdowne studios.
British hard rock legends Uriah Heep are one of the "big four" rock bands, along with Led Zeppelin, Deep Purple and Black Sabbath, and certainly one of the most intriguing bands both musically and lyrically, to emerge from heavy rock.

Evoking an era when prog, hard rock and heavy metal co-existed in an era of glorious, boundary-breaking music, Uriah Heep rose from inexperienced studio musicians with everything to prove to bona fide limo inhabiting rock stars. 

After selling over 40 million albums worldwide, over the years Uriah Heep has influenced many different metal bands around the globe, among the most popular being Dio. Bands including A-ha, King Diamond, Krokus, Demons & Wizards, Fifth Angel and Axel Rudi Pell have all cited Uriah Heep as a band of personal influence, while W.A.S.P, Tesla and Blackmore's Night have all covered the band's songs.

To pre-order …Very 'Eavy Very 'Umble… – https://uriahheep.lnk.to/VEVUPR
To pre-order Salisbury – https://uriahheep.lnk.to/SBYPR
Also, Uriah Heep's Every Day Rocks box set is exclusively available via the Official Artist Store: https://uriahheep.lnk.to/EveryDayRocksPR
And Choices, a personal selection of Uriah Heep hits and deep cuts from across the band's exceptional career on 6 CDs, is available at: https://uriahheep.lnk.to/ChoicesPR
Very 'Eavy, Very 'Umble tracklist:
A-Side:
Gypsy
Walking In Your Shadow
Come Away Melinda
Lucy Blues
B-Side:
Dreammare
Real Turned On
I'll Keep On Trying
Wake Up (Set Your Sights)
Cat No. BMGCAT531LP Barcode: 4050538689785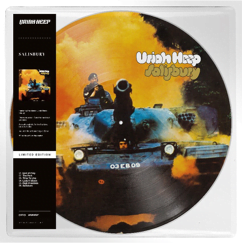 Salisbury tracklist:A-Side:
Bird of Prey
The Park
Time to Live
Lady in Black
B-Side:
High Priestess
Salisbury
Cat No. BMGCAT532LP Barcode: 4050538689792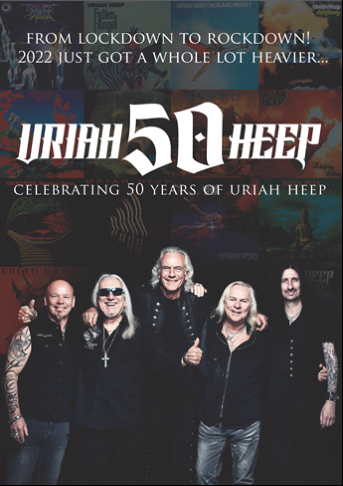 Uriah Heep continue to tour until this day with founding member Mick Box and their extensive European tour for 2022 features 61 dates across 28 countries, tickets available here; http://www.uriah-heep.com/newa/livedates.php