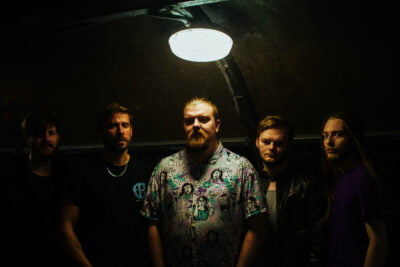 Ascending metallers BROKEN CALLING are making themselves heard with their explosive new single, Redemption. Check it out, here – https://youtu.be/CmDKVimFDEU . We invited the guys for a chat to get to know them…..
What is the full band line-up, who sings and who plays which instrument?
Connor Snyder- Lead Vocals
Jack Apella- Drums
Martin Osborne- Guitars/ Vocals
Callum Green- Guitars
James Falconer- Bass/ Vocals
How and when did the band form?
The band formed last year after a bit of a messy break up with four of us being in a previous band. After some uhmming and ahhing we decided to have a go at it ourselves, and make a sound that we wanted to have fun with, throwing together different influences and genres, because why not??
When and how did the band really start gelling and solidifying?
Well as mentioned before four of us were in a band before and we had done quite a bit of touring, so we knew each other pretty well. Callum was a friend of James's who drove him places and he just so happened to play guitar, so we brought him down for a practice sesh and he fit like a glove. Martin can finally relax for a bit, at least writing wise anyway.
Who are your musical influences?
If I said varied influences that would be boring! But in a nutshell.
Jack loves Lamb of God and Drum & Bass
James is very Tech death and the Djenty boi
Connor and Martin are still in their Myspace metalcore phase, throw in a dash of hardcore too
And Callum enjoys all of the above!
Throw that together, you get Broken Calling!
Where did the name of the band come from?
After about an hour of trying to come up with a band name, the idea of us thinking we had a calling with our previous band. Well…that got broken! Hence the name Broken calling.
How far back does your history with each other (the band members) extend?
James and Callum have known each other for aaaaaaaages! James, Connor, Jack and Martin were in the previous band together for various times ranging from a couple months to being a founding member! But now we are all just one big angry family!
Are you friends from school or any family relations?
If we were related it would be the craziest game of Family Fortunes you'd ever see!
In your opinion, how is your band different from all the other bands out there?
Well we try to be louder than all the other bands out there, and angrier too.
We don't want to be like anyone else, we want to be Broken Calling.
If a deaf person were to ask you to describe the sound of your music, how would you describe it?
If you stubbed your toe and Boris Johnson took away your free school meals while he laughed at you. The anger is real.
Where can we find your social media sites?
www.facebook.com/BrokenCallingUK
www.instagram.com/brokencalling
https://open.spotify.com/artist/1yo3fHdwFrqm6sDvjhVm49?si=bkAgWzEoTyuzJqmXwO0j9Q