Northern Doom metallers THE RHUBARB have unleashed a killer new lyric video, Drag Me To Hell, out now – https://youtu.be/FfV1WqHdskM . We figured it would be great to find out more about the band: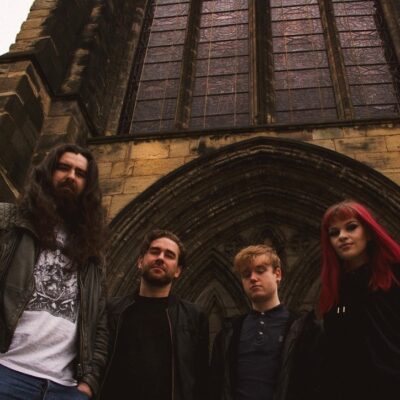 What's the line up?
The full line up of the Rhubarb are Michael McConville on guitar, Seán Maguire on lead vocals, Jack Donnelly on drums and Hannah White on vocals and bass guitar.
When did you form?
The band were formed in 2015 in Busby, Glasgow. The five of us attended Riverside music complex where we studied music performance. Michael wasn't part of the band at this point and we had two previous members, and when one of them left we asked Michael to join our band in 2017.
When did you gel?
We have always been really good best friends, even having two previous members in the band. We definitely feel we properly gelled as a band when Michael joined as we were giggling more frequently and also recorded our second EP which was so much fun to record. Being in a band with your best friends definitely makes being in a band extra special!
Who are your influences?
Our musical influences range from Electric Wizard to Hawkwind, Monolord, Uncle Acid to the Shocking Blue. We regularly compare ourselves to if Black Sabbath and Fleetwood Mac have a baby, we are that baby.
Why 'The Rhubarb'?
Hannah was talking about facts one day during a college break and one of those facts were 'acting extras in films and tv shows constantly mouth "Rhubarb" in the background which looks like they are holding a conversation' we laughed and joked and thought 'Electric Rhubarb' is a good band name but after research there is already a band named that so we thought 'The Rhubarb' is punchier and just as good.
What makes you different?
What makes us unique and different from other bands is our unusual twists and references to 1960s and 1970s genres mixed with today's modern sludge doom metal. The use of two vocals, male and female, harmonising in a trippy, psychedelic style is very individual when it comes to typical doom metal.
How would you describe your music?
We would describe it as a riffed fueled, drum crazy, melodic fused psychedelic sludge fest!
What are your band links?
Our links include:
Spotify- https://open.spotify.com/artist/64lo9AEk8xfVtrJjKFI7e3?si=felgwBhFSpqrluJc2PvcLA
https://music.apple.com/gb/artist/the-rhubarb/1111617414
Bandcamp : https://therhubarb.bandcamp.com/