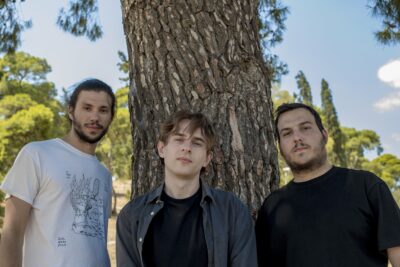 Greek rock n rollers ROLLIN' DICE are set to break out to the UK with the new album, Reroll, which is out now via Vinylstore. ROLLIN' DICE have also just released a new single and video, With You – https://youtu.be/bTK5PdSWf68 . With this in mind, we had a chat with the guys:
What is the full band line-up, who sings and who plays which instrument?
Antonis Karathanasopoulos(guitar, vocals), John Robas(bass guitar, backing vocals), Aggelos Kalogiannis(drums)
How and when did the band form? Tell us anything interesting about your hometown.
The band was formed back in 2011, but totally different in its line-up and its aesthetic compared to the current one. Athens is a big city full of cement, hiding its former glory in its center and at the same time being home to a lot of social and aesthetical controversies. For example, imagine a band playing rock next to an ancient temple while homeless people stare the tourists having a good time. A total controversy.
When and how did the band really start gelling and solidifying?
It happened in 2017 when we decided to continue as a trio and produce our first album. It was something that we were thinking for years but couldn't complete due to our studies and musical differences. So, we changed the line-up and redefined our purpose.
Who are your musical influences?
Mainly bands from the 1970s like Deep Purple, Black Sabbath, Led Zeppelin, Rush, The Who and many others, but also modern ones like Rival Sons, Graveyard, Kadavar, Blues Pills and Witchcraft.
Where did the name of the band come from?
The AC/DC song "Live Wire".
How far back does your history with each other (the band members) extend?
Antonis and John were always the main members of the band so they know each other a decade. Aggelos joined the band in 2017. We are very close however, all three of us, regardless of how long we know each other.
In your opinion, how is your band different from all the other bands out there?
We differ because we try to redefine our genre, not to copy its former glory. We want to make it sound alive in the here and now and express our concern on current issues.
If a deaf person were to ask you to describe the sound of your music, how would you describe it?
Colorful and alive.
Where can we find your social media sites?.
Facebook
https://www.facebook.com/WaytotheSun
Instagram
https://www.instagram.com/rollin_dice_official/
Bandcamp
https://rollindice.bandcamp.com/
YouTube
https://www.youtube.com/c/RollinDiceTheBand
Spotify