Bonfire – Fistful Of Fire
Due for release on April 3rd 2020 via AFM Records, Fistful Of Fire is described by their founding member guitarist Hans Ziller as "One of the toughest Bonfire albums ever", and this is no over confident brag as the fourteen tracks here do not outstay their welcome. It's the second studio release to feature the extraordinary vocal range of Alexx Stahl. It opens up with 'The Joker'. A calm before the storm intro of cello and flamenco guitar lines and sedate drum patterns head into shuddering riffs and solos. 'Gotta Get Away' is all boisterous riffing, real headbanging material providing the foil for stratospheric vocals. Light and shade in the verses are fine examples of melody with muscle.
'The Devil Made Me Do It' is an early highlight. Riffs come out of the corner fighting, backed by over the top, lung busting vocals. It builds up momentum midway and heads towards the finish line with an array of drum battering and guitar solos. A wiry guitar intro entices for 'Ride The Blade' as it segues into a catchy chug with snapping snare work in abundance. I was expecting a ballad for 'When An Old Man Cries' but this powerful epic reaches out and grabs you for an emotional five minutes of soul searching. 'Rock N Roll Saviours' is an anthem that puts the band with their fans as one. Dynamics punch hard for the lyric of "Fight for rock!". 'Fire And Ice' is a take no prisoners headbanger and air guitars are a must when the main riff kicks in as it heavies up for kick drum driven choruses.
Heartbeat rhythms surge sedately towards lung busting choruses for the mighty 'Warrior'. 'Fire Etude' that translates to "A short musical composition, typically for one instrument" lives up to its title for a minute and a half of fretboard melting guitar soloing. Tempos are upped and blasted into oblivion by big riffs and a histrionic guitar solo for 'Breaking Out'. 'Fistful Of Fire' sees this fist hit hard and heavy for some call to arms heavy metal and chest beating choruses. 'The Surge' is a short but sweet blast of guitar dominated pomp rock. Everything is cranked up to eleven as the rhythms hurtle along at breakneck speed as Alexx hits his highest notes during 'Gloryland'. It's the heaviest track on the album as we are brought down gently for final track, an acoustic version of 'When An Old Man Cries' is the ballad I was expecting earlier and it was worth the weight as it tugs at the heart strings. The music is laid back but the vocals are a vehement tour de force.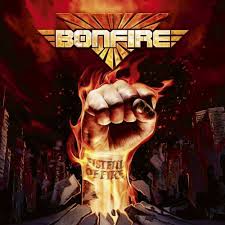 Fistful Of Fire album track listing :- 
The Joker.
Gotta Get Away.
The Devil Made Me Do it.
Ride The Blade.
When An Old Man Cries.
Rock N Roll Survivors.
Fire And Ice.
Warrior.
Fire Etude.
Breaking Out.
Fistful Of Fire.
The Surge.
Gloryland.
When An Old Man Cries (acoustic version).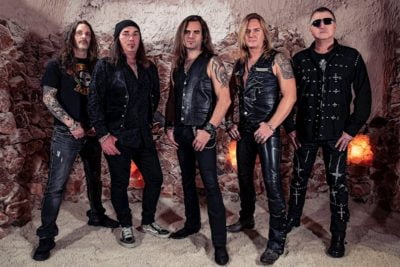 A heavy start to 2020 as Bonfire fight fire with fire!