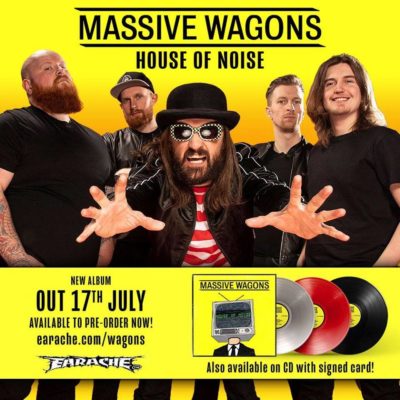 Rolling rolling rolling, keep those wagons rolling and Massive Wagons certainly have with 'In It Together', the opening track taken from forthcoming studio album House Of Noise released via Earache Records on July 17th 2020. I've heard this song twice in the last 18 months at gigs, it sounded impressive then but it's taken on a new lease of life in the studio courtesy of the bombastic production skills from Colin Richardson and Chris Clancy.
If you want riffs, you got em and the AC/DC analogy is apt as guitarists Stevie Holl and Alex Thistlethwaite crank em out like Angus and Malcolm Young did. The rhythm section of Adam Thistlethwaite on drums and Adam 'Bowz' Bouskill on bass guitar lock everything down which just leaves frontman Baz Mills to top it all off with a mighty vocal and heart on sleeve lyrics. Point proven by "Maybe I'm old before my years, maybe writing songs that wipes away the tears. Maybe it's the realization that we're in it together". "Maybe I'm running before I can walk, maybe I'm singing before I can talk. Maybe it's the realization that we're in it together". But my standout is "Haway fellas I'm so glad you came, I want people screaming your name, tra la la la la this feels like home". Feel good vibes abound throughout, highlighting how they bond with their fans.
It ends on some mighty "Whoa oh oh's" and the accompanying video sees the band playing in the round at the 'kanteena' in Lancaster with a mighty stage invasion by fans who were asked to turn up, be filmed that day and they turned up in their droves to join in the fun and the smiles are there in abundance!  Baz sums the song up perfectly as "It's an uplifting anthem of unity, the perfect tonic in these troubled times". It's influenced by their first meeting and tour with Ginger Wildheart.
A tasty appetizer from forthcoming studio album House Of Noise sees Massive Wagons riff it up!