Black Roze – Spiritual Hell
This is a cocksure debut album to say the least from Kent based Black Roze as  Spiritual Hell swaggers not staggers! They open up with the throbbing bass guitar heavy 'Obscenity' that adds funk to militaristic snare drums, wiry guitar lines and a piercing solo midway. The lead vocal from Viixen Roze sounds like it was sung whilst wearing a straitjacket, bringing to mind Aimee Echo from the defunct US band Human Waste Project.
'Godz N Queenz' is an ominous rumble of grooves that cloak a leering vocal peppered with mighty howls. 'Why Don't You?' is a short, sharp blast of proper punk rock, not the watered down crap we're force fed with as it pogo powers along on a rant of ire. 'Soul On Fire' is aptly titled mainly for the anguished vocal and as the song heavies up, so does the vocal intensity. 'Snow White Angel', could it be a heavy metal 'Islands In The Stream'? Yeah, why not with those earworm guitar lines and duetted lead vocals breezing along!
In complete contrast, 'In The Darkness (Hell)' is a doomy slow burner that lights its fuse midway for a conflagration of NWOBHM tinged mania. 'Curse Of The Black Roze' is a fuzzed up freak tune banged out with a take no prisoners delivery until a wah-wah drenched solo and bass guitar that creeps up on it, take charge. The first thing that struck me about 'So Sleazy' was the way it bounds along like 'Denis' by Blondie (which is no bad thing). The second thing was the kick drums that rattled my headphones backed by sugar sweet vocals.
'Lost' is a balls to the wall bruiser backed by an emotionally frail vocal that builds into a message of hope. This thrilling debut album ends on the beautiful balladry of 'In the Darkness (Spiritual). It's a wistful whisper with vocals that could melt the coldest of hearts.
Spiritual Hell album track listing :-
Obscenity.
Godz N Queenz.
Why Don't You?
Soul On Fire.
Snow White Angel.
In The Darkness (Hell).
Curse Of The Black Roze.
So Sleazy.
Lost.
In The Darkness (Spiritual).
Black Roze band line up :-
Viixen Roze – Lead vocals
Jaime Cortinas – Guitar/keyboards.
Baz Roze – Guitar.
Steve Rankin – Bass guitar/backing vocals.
Vic Finch – Drums.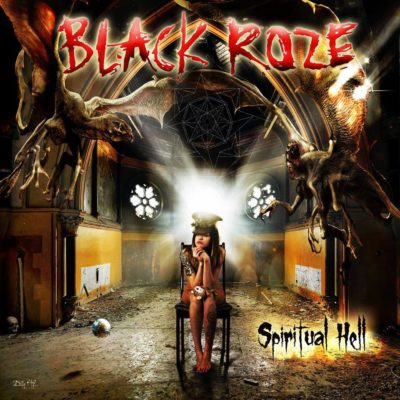 With Black Roze, Hell ain't a bad place to be!