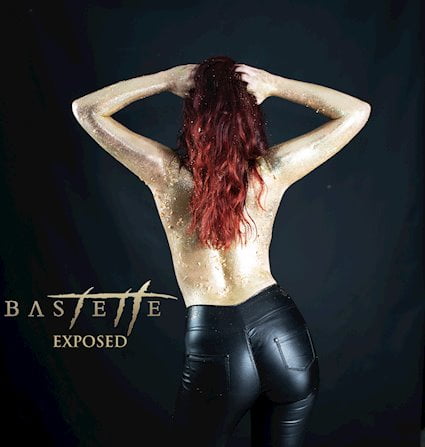 Bastette, another band that have come my way via the NWOCR various artists album impress highly with their 5 track Exposed EP due for release on September 17th 2021 on RPM Records.
Opening track 'Stand Back' has soothing keyboards and snappy snare work in the verses giving off a 1980's new wave vibe but heavies up for guitar laden choruses and all of this is wrapped in a soaked in honey spotlight stealing lead vocal from Caroline Kenyon.
'Talk About It', recently released as a single has been made track of the week by Classic Rock mag, Planet Rock and you can see why as Rammstein heavy keyboards dominate as they swathe around the riff heavy dynamics and the vocals are like suppressed anger aching to be set free.
A teasing intro riff and vocal for 'Sick And Twisted' muscles up into a hard hitting drum driven rock ballad and a stripped down midsection heads off into a full on band outro.
'Rollercoaster' is not quite the white knuckle ride the title suggests but it still scares as this mean and moody song pounds along on seismic grooves backed by a heart melting angelic vocal.
The EP ends far too soon with 'Poison', the heaviest track musically and vocally. It's 4 minutes of volatile venom avoiding an antidote as it flows through your veins with a cocktail of soaring soundscapes and a don't f**k with me vocal.
Pre-order link for the Exposed EP and band info is here :- https://bastette.bigcartel.com/ I https://www.bastette.co.uk I https://www.facebook.com/Bastette I https://www.youtube.com/BastetteMusic I https://www.instagram.com/bastetteuk Ihttps://twitter.com/Bastetteuk I https://www.tiktok.com/@bastetteukofficial
Bastette band line up :-
Caroline Kenyon – Lead Vocalist/Songwriter.
Sam Newiss – Lead Guitar.
Eoin Kelly – Rhythm Guitar.
Paddy Duffy – Bass Guitar.
Rob Hirst – Drums.
Bastette definitely don't leave themselves exposed due to the 5 fully exposed songs here from their Exposed EP.