Bast will be the first band playing on the Eyesore Merch stage in the Damnation festival in Leeds already in less than a week. The band is truly looking forward to this festival and so do the fans as the festival is selling out the tickets very well. Let's see what Bast vocalist and guitarist Craig Bryant thinks about the festival and what are the plans for the band afterwards.
For those, who do not know you – could you give the readers a quick introduction to the band?
We are a heavy metal three-piece based in South West London, UK. The first iteration of the band formed in 2008, composed of just a guitarist and drummer, joined by a third member the following year, and a lineup change in 2011. Years passed and countless live shows later, we finally released our debut full length this year.
How would you describe your sound?
Pinning down our sound has never really been much of a concern for us – Bast has simply acted as a melting pot for each of our varied, yet at times, compatible ideas, and "Spectres" was what came out the other side of the mangle. Most people who talk with us seem to appreciate the doom and black metal elements, with other more subtle influences discernible to the keener ear. Increasingly, audiences have identified a definite death metal influence in our sound, which wasn't a particularly conscious inclusion for us, but certainly not an unwelcome one. It's dark, but not without hope – to coin a loose summary for you.
What has been the bands biggest achievement so far?
I'd say our biggest achievements have been mostly recent – the wonderful support we received whilst touring with Conan, sharing stages with Yob and Pallbearer in London, as well as achieving slots on some of our much loved festivals including Roadburn, Incineration, Into The Void, Doomed Gatherings, and of course, Damnation.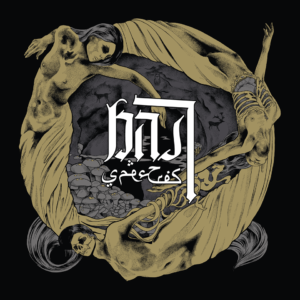 Your first full-length album "Spectres" was released some time ago this year. How do you feel about it now?
We took our time writing "Spectres", and are still very proud of the outcome. We're still performing the record to new audiences on a regular basis, and it's still gaining appreciation and support as we continue our journey. We are, however, looking to the future no less.
Are you already working on another studio album?
We've just starting laying down the foundations for a follow-up to "Spectres", mainly through verbal exchanges of ideas and impromptu jams. It's still early stages and we're certainly not planning to rush anything out – as with our previous release, we want it to be considered and something that we're all completely happy with. We thought it important to leave some space between writing so as not to repeat any ideas, or be tempted to recycle any residue riffs or passages that were culled from the last writing process – so who knows what the future holds? It may be a spiritual successor to "Spectres", or it may be a different beast altogether.
Next month you are going to play in Damnation festival for the very first time. What can the audience expect from you at the festival?
We're looking forward to setting the tone for the Eyesore stage, opening for such awesome bands – Fen & Wodensthrone are particular favourites of ours – so expect a heavy and aggressive set from us to get everyone pumped for a killer day of music!
What are you looking forward to most in Damnation festival?
The lineup this year is particularly strong so it's a tough call. Besides the before mentioned bands with whom we're sharing a stage – a lineup which stands up on its own beside some of the legendary bands playing the other stages – we're all, as a band, most definitely looking forward to watching Monarch and Ahab.
What is your opinion of the Damnation line-up?
I think Damnation provides a good mixture this year, and you can't go wrong throwing a few legendaries into the mix! It's also great for some of the smaller guys like ourselves, to get our name printed alongside such infamous acts. Everything from Stoner rock to thrash, drone to black metal – a lot of bases are covered. Definitely more than a lot of larger events.
Can you sum up Damnation in one sentence?
The true grim of the North.
How would you describe the metal music today? What has changed over the last few years?
I think metal is currently in very healthy condition, and it's certainly one of the most exciting times to be a fan since I was young. Personally, I've heard some of the most ambitious and exciting records in my collection over the past few years, and there's also an ever strong appreciation for the classics and forefathers of the genre. There are world-wide communities celebrating all the various sub-genres and styles of metal, without any truly tipping over into the mainstream – it's perfect!
What are your plans for the rest of the year?
Post Damnation, we're headed straight to Paris to join a lineup of UK doom bands, namely The Wounded Kings & 11Paranoias, before taking a short trip to Ireland with Conan & Slomatics, then rounding off the year with a tour of the North of England and Scotland with eclectic deathmetallers Ageless Oblivion.
Any message you wish to pass on to the Planetmosh readers?
Thanks to Planetmosh for providing the questions and many thanks to anyone who took the time to read the answers. We intend to get your day off to a miserable start come November 1st – see you there.